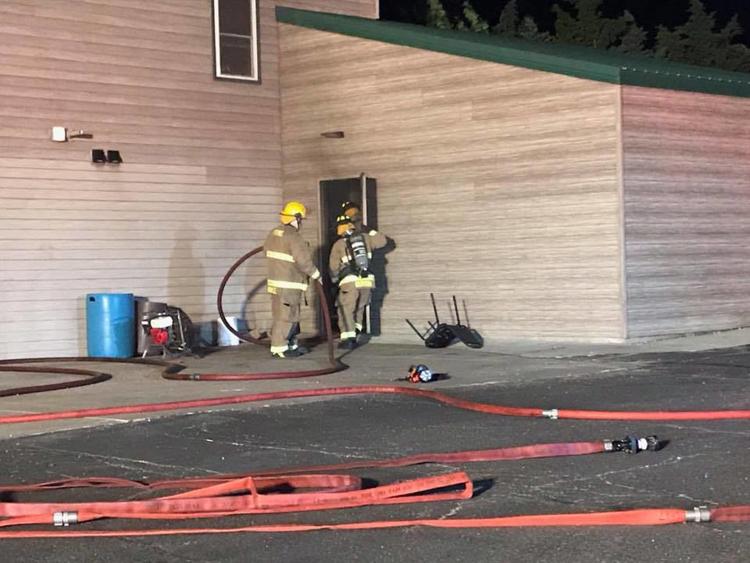 The iconic Cattleman's Club Steakhouse east of Pierre will be closed for a few days after a fire early Wednesday did some damage.
A fire at the popular establishment overlooking the Missouri River about 5 miles east of Pierre on state Highway 34 was called in about 5:10 a.m., Wednesday, Aug. 21, said Jason Roggow, chief of the Pierre Rural Fire Department.
"It was reported by a resident who lives upstairs in the building," Roggow told the Capital Journal. "He wa awakened by smoke alarms and by smoke that had reached up to his residence."
The first fire truck, dispatched from the rural fire station on Airport Road in Hughes County just off the northeast corner of the city, arrived at the fire scene southeast of Pierre at 5:27 a.m., Roggow said.
"We made an interior attack toward the kitchen where everything, the smoke, the heat, was coming from. The fire was just inside the door."
Within about 10 minutes, firefighters had knocked off the fire and went into checking the rest of the building and mopping up, Roggow said.
"The fire damage was limited to that small area of the kitchen, in one room. There was fire damage to some of the contents, to walls and some electrical wiring in that immediate area," he said. "There was extensive smoke damage to other areas of the building."
The area affected by the fire was relatively small.
"So we didn't have to use extensive amounts of water like we do have to do sometimes," Roggow said.
"No one was injured," he said.
He expects insurance company investigators to complete the determination of the fire's cause, Roggow said.
"There was nothing about the fire that required that we request the state fire marshal's office to get involved," Roggow said.
No cause has been determined and the burn damage to wiring could have been caused by the fire that was not necessarily electrical in origin, he said.
About 20 firefighters, including some mutual aid response from the Pierre Volunteer Fire Department, responded to the fire, Roggow said.
Like him, many of the rural department's firefighters also are volunteers for the city fire department.
Cattleman's Club Steakhouse was opened in the mid-1980s east of Pierre by former rancher Myril Arch, who built a reputation for serving great steaks. His daughter, Cindy, has owned and managed it since 1994 and also more recently opened a similar restaurant in Mitchell, South Dakota, according to their online history. Myril Arch died in 2013.
Chief Roggow said a grandson of Myril Arch lives in a residence on the upper floor of the Cattleman's Club and called 911.
On Wednesday afternoon, the owners left this note on their Facebook page:
'We would like to thank the Pierre Fire Department for their quick response to our fire. We are going to be closed for a few days. I will keep everyone updated as to our progress. Thanks for all the prayers.'