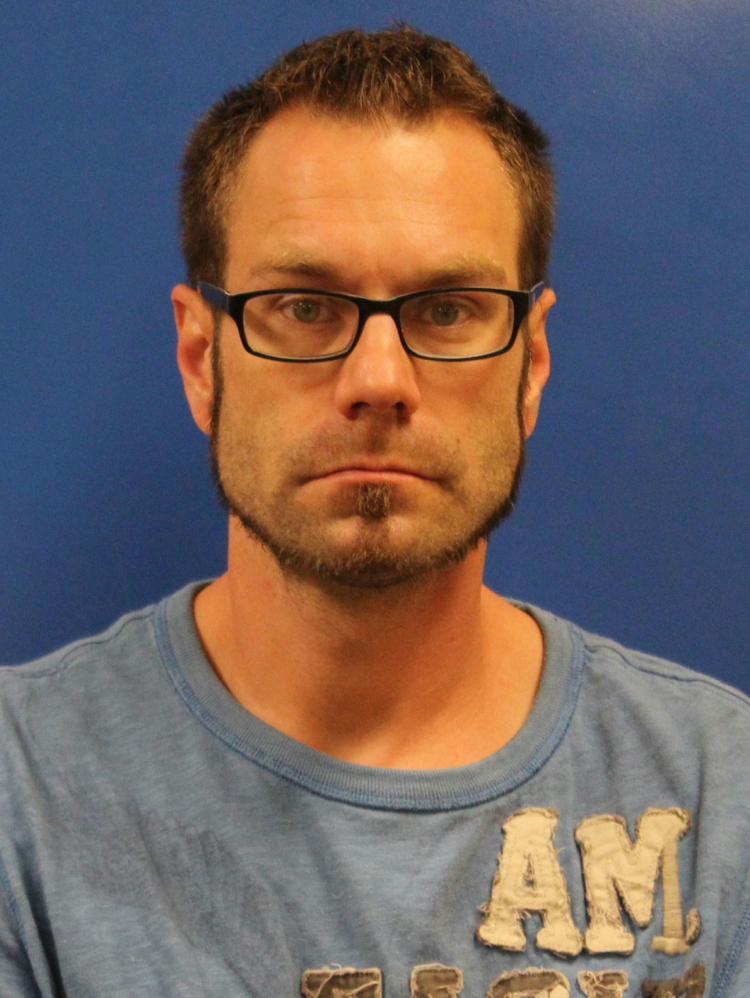 With a table before her filled with sex toys bagged as evidence, a 10-year-old girl answered questions for about 80 minutes on Wednesday, May 29, in a Pierre court room about what she says Brandon Snodgrass did to her with them.
As the alleged victim, the girl is the key witness against Snodgrass, 36, in his trial on a dozen charges of raping and sexually penetrating her in various ways on several occasions from the time she was 5 until she was 9.
Snodgrass was indicted in September on eight counts of first-degree rape of a child under 13; each count is a Class C felony with a maximum penalty of life in prison and a mandatory minimum sentence of 15 years.
He also was charged by the grand jury indictment with four counts of sexual contact with a child under 6, each a Class 3 felony with a maximum sentence of 15 years in prison.
A jury panel of 15 — 10 men and five women and including three alternates — listened intently, some leaning forward to better hear the girl's quiet and confident-sounding testimony at the trial of Snodgrass, 36, that opened Tuesday and continued Wednesday.
Everyone else in the court room audience, save a few reporters and four others — two selected from each side, the prosecution and the defense — were ushered out before the girl took the stand. State Circuit Judge Mark Barnett explained that state law required such measures for children, considered "vulnerable witnesses," in such trials.
(Although he retired in March, Barnett still serves at times, including for this trial under an order from state Supreme Court Chief Justice David Gilbertson.)
The girl's mother already had testified Wednesday morning that last September her daughter came into the kitchen "wrapped in a towel and said, 'Mom, I need to tell you something.' She said Brandon had molested her."
The mother stopped to cry silently for a few moments on the stand before she said that.
That was about four months after the mother and Snodgrass had broken up and Snodgrass moved out of their duplex apartment in Pierre, the girl's mother testified under questioning from Hughes County State's Attorney Roxanne Hammond.
(The Capital Journal is not naming the girl's mother to avoid identifying the alleged child victim in the trial.)
During the questioning of the mother, both Hammond and Dave Siebrasse, Snodgrass's defense attorney, elicited details — at times explicit details — from her about her relationship with Snodgrass, who was her boyfriend for several years, when they lived together.
They had sex often, she testified. They had an ottoman with a lid where they stored dozens of sex toys — 50, Judge Barnett said at one point in the proceedings on Tuesday — including a Sawzall, a brand of reciprocating blade, battery-powered hand saw used in construction, which had a sex toy attached, rather than a blade, the woman testified.
Siebrasse seemed incredulous at that tool being used for sex, asking the woman if it was a tool commonly used for cutting through "studs and drywall and metal."
"It depends on the attachments on it," the woman said.
"So it goes back and forth rapidly?" Siebrasse asked.
"Well, it depends on the pressure on the trigger," she said.
She said, under questioning from Hammond, that she cheated on Snodgrass and that was partly why they broke up in early 2018.
The girl's mother testified for about 105 minutes.
Snodgrass went to prison during their relationship and she and her daughter visited him in the state prison and wrote and talked on the phone with him regularly, the girl's mother testified.
A graduate of Riggs High in Pierre, Snodgrass was sentenced in July 2016 to five years in prison, with two years suspended, for a drug crime. Based on his lack of a serious criminal record, he was released in September 2017 and remains on parole on that conviction, according to state prison records.
Siebrasse spent time asking the girl's mother about letters she had written to Snodgrass in prison, using terms of affection, and telling Snodgrass how much her daughter loved him and listened to him as a step-father figure more than she listened to her biological father.
She still has pictures and a dreamcatcher that Snodgrass made for her while he was in prison, the girl testified.
In cross-examining the child, Siebrasse asked her in detail about her school and other activities and where she had learned the terms "molest" and "rape," that she used in talking to investigators about her allegations against Snodgrass. His questioning probed at whether the girl had seen her mother and Snodgrass engaged in sexual behavior, including using the sex toys.
The girl testified that Snodgrass threatened to hurt someone she loved if she told anyone about his raping and molesting her.
The girl said that in one incident "I was on the mattress out in the living room and I was pulling away from Brandon and he hit me."
Hammond had the girl look closely at the table covered with about seven sex toys next to the witness stand, holding up each one and asking the girl how Snodgrass had used it on her.
Siebrasse asked the girl if she played with other kids, including boys and if she had imaginary friends when she played alone. Whether she saw the sex toys kept by her mother and Snodgrass left in the bathroom or around their home, or saw sex scenes on TV and the internet.
The girl seemed to handle the questioning well and matter-of-factly, regularly saying she didn't remember certain details like what year she was in school when a certain thing happened a few years ago. She talked about her mother's talks with her about "feminine" things, including a "period," and how babies are born, without seeming uncomfortable or nervous. She often smiled and did not appear to get emotional.
She said she still loved Snodgrass and missed him when he was in prison.
When Snodgrass went to prison, did she miss him? Siebrasse asked
Yes, she said.
"Did you miss him the whole time?" Siebrasse asked
"No, not the whole time."
Family members of Snodgrass and of the girl and her mother were in the court room on Wednesday.
Snodgrass has been in the Hughes County Jail since his arrest in September. Judge Barnett ordered him held without bond, citing the violent nature of the charges and that he posed a risk to the public. He was dressed in a dark suit coat and pants and often talked with Siebrasse at the defense table over witness testimony, at times responding by nodding or shaking his head at something said.
Pierre police officers testified Wednesday about their parts in responding to the 911 call the woman made Sept. 5, 2018, after her daughter told her Snodgrass had molested her.
Evidence in the case includes that the DNA of the girl was found on one of the sex toys that were kept in the home of Snodgrass and the girl's mother before they broke up. When Snodgrass moved out in early 2018, he took the sex toys, the girl's mother testified. They were found in a search of Snodgrass's home in September 2018.
After the jury had gone home Wednesday, Judge Barnett and the two attorneys discussed jury instructions, with both sides arguing for their wording, and talked about how expert witness testimony will be handled.
Hammond showed the jury images extracted by law enforcement from Snodgrass's cell phone and other electronic devices which included pornography. Siebrasse told Judge Barnett he planned to have an expert witness testify that the pornography Snodgrass possessed, in quantity and in content, does not appear to be that of a man with sexual interest in children.
Hammond said she opposed allowing Siebrasse to call expert witnesses that would testify Snodgrass does not fit the profile of a child pornography users because, she told Barnett, she has not charged him with such crimes.
But Barnett said the images from Snodgrass's phones and other devices shown to the jury on Wednesday "sure looked like child porn to me," Barnett said. Barnett said he was pretty sure the jury would view that evidence as indicating Snodgrass was sexually attracted to children.
"So that door is open," he told Hammond, meaning Siebrasse, to rebut Hammond's evidence, now can introduce expert testimony that Snodgrass does not fit the profile of someone with sexual interest in young children.
Prosecutor Hammond said she expects to wrap up her case on Thursday when Siebrasse will begin calling his defense witnesses.
Court officers have said the trial, at least jury deliberations, may continue into Saturday, but it's not been decided yet.