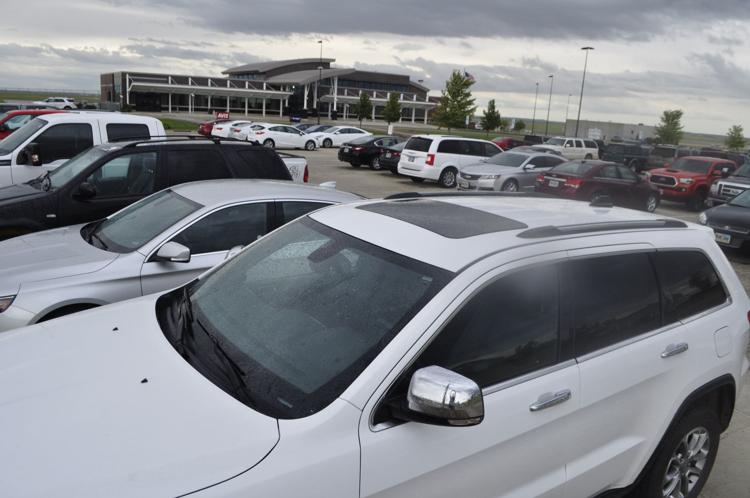 A new problem has developed at the Pierre Regional Airport — a lack of parking for cars and pickup trucks, not planes.
There's still plenty of runway space at the small airport that is seeing growth in the number of passengers again. But the municipal parking lot next to the terminal on the far northeast end of town is mostly full each day, as it was Thursday.
"I guess that's sort of a negative, but it's kind of a positive," Mayor Steve Harding told the Capital Journal. "It shows our boardings are up."
Last week, City Commissioner Jamie Huizenga touted the higher passenger numbers at the Commission's regular meeting, saying again that everything with the carrier is going better than expected and much better than service in recent years.
United Airlines, flying as SkyWest, began flying from Pierre to Denver a few days into April and by the end of July had ferried 5,390 passengers from Pierre.
California Pacific Airlines, which quit flying the route abruptly Jan. 17 after weeks of problems, delayed and cancelled flights — carried 328 passengers in the first half of January from Pierre to Denver, making the total through July 31 from the airport 5,718, according to figures provided by Airport Manager Mike Isaacs.
Taking the three months — May, June and July — in which United/Skywest flew the full month, it totaled 4,586 passengers, or a monthly average of 1,529.
That shows marked gains from recent years.
Under Aerodynamics Inc., or ADI, in 2018, those three months saw an monthly average of 895 passengers; in 2017, 937.
In 2016, the last year Great Lakes Airlines had the Pierre business, those three months averaged 212 boardings per month; in 2015, Great Lakes averaged 563 passengers each of those three months.
The city parking lot at the airport charges no parking fees. And this summer the lot usually is mostly packed.
This week, Huizenga pointed out that a significant change in flight schedules will start next month and no doubt also will increase passenger numbers.
As of September 2, Watertown, South Dakota, which has teamed with Pierre for four years on a federally subsidized Essential Air Service contract of a dozen flights per week to Denver, will begin its going its own way. Which is to Chicago.
That means Pierre will get more seats and probably better service, because a jet will be parked in Pierre overnight, Huizenga said.
Since April, Pierre and Watertown have been sharing one jet for one flight each day to Denver, giving each community, in theory, half of the 50 seats. Meanwhile, each city has had one flight a day dedicated to just that city. With Watertown getting approval to start flying to Chicago, not Denver, Pierre now will have all of two planes per day.
Airport Manager Mike Isaacs says that means instead of 75 seats available each day to passengers in Pierre, there will be 100 seats per day.
(Under the current plan, the jet that flies from Watertown to Pierre before ending in Denver in theory offers each community 25 seats. But it's first come-first served, so it depends on who buys the tickets first.)
Starting in September, instead of parking in Watertown the night before, the Skywest jet will park in Pierre.
"That is critical," Huizenga said at the Commission meeting on Tuesday.
It means that Pierre passengers won't have to wait for the aircraft to arrive from Watertown each morning.
"Now we have to rely on weather issues for the first flight leaving Watertown," Huizenga said. "Watertown is a nice community, but in the winter it can be challenging with the snow and ice."
Under the new regimen next month, the plane will be in Pierre, and taking off in difficult weather always is easier than landing in difficult weather, Huizenga has said.
The numbers will keep going up fast this fall, because the legendary hunting season around Pierre tends to double passenger numbers in Octobers and Novembers, Isaacs said.
So it's clear more parking lot space is needed.
The parking lot at the airport is a municipal parking lot, just like any other city parking lot in town. So the $1 million in federal funds received by the airport each year — on the condition that at least 10,000 passengers board a plane per year — can't be used on the parking lot, Harding said.
Mayor Harding said Thursday that the City Commission just began forming a budget for 2020, hearing from interested groups seeking funding and meeting last Thursday in its first work session poring over proposed spending for next year. On Friday, Aug. 16, the Commission will hold its second budget work session starting at noon in City Hall.
"Right now we do have money to expand the (airport) parking lot in the 2020 budget," Harding said. "Hopefully some of that will stay in there."
But there is room around the lot to add parking spaces and some money in the still-unfinished 2020 budget.
"I think the money we have now in the budget would give us an additional 20 to 25 parking spaces," Harding said.
The key 10,000-passenger count for a year should be reached in October, Isaacs figures. And that's including nearly three months with no airline service.
That means that even before the city's 2020 budget is on the books, some expansion of parking is needed to handle the traffic from more seats being available on the 50-passenger jets, and from hunting season's influx.
So he's planning with other airport leaders and city crews to use gravel or other fill in an area adjacent to the parking lot soon, to "find a temporary solution for hunting season," when many more people are expected to be flying into Pierre, Isaacs said.
Not only the parking lot has gotten tight on space, but the boarding area inside the decade-old airport is getting too crowded every day, Isaacs said. So he and the city are working on plans to find some more space for people to wait after clearing security and waiting to board.
"The business model has changed, too," Isaacs told the Capital Journal on Thursday. "Airlines now are encouraging people to have carry-on (luggage) only, not checking bags (for baggage compartments.) So everyone flying has a large carry-on bag, which is taking up more space in the boarding area."
Isaacs is not complaining.
"These are good problems to have," he said.