Pierre jury: Snodgrass guilty on all counts of child rape, sex contact with child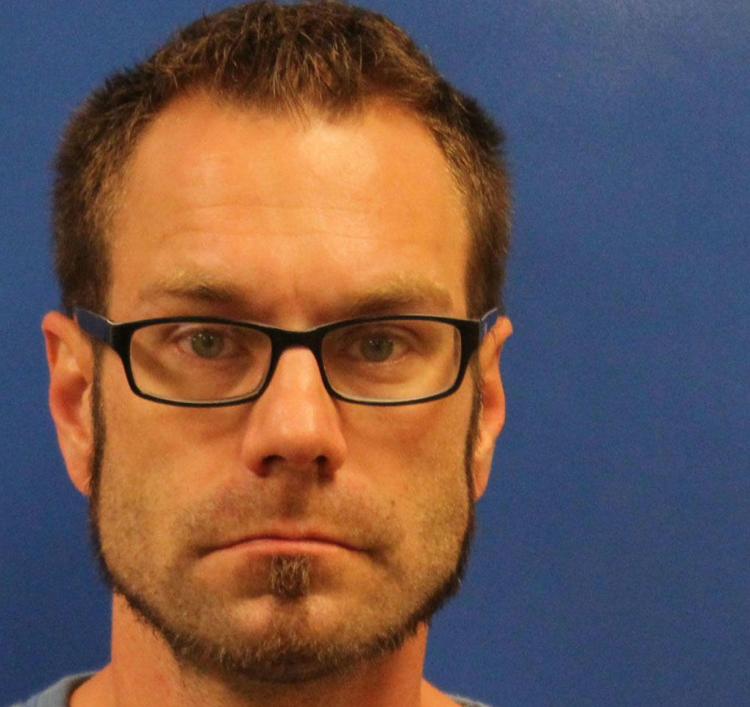 After a week-long trial and about two-and-a-half hours of deliberation on Friday, a jury of nine men and three women found Brandon Snodgrass guilty of 12 counts of raping and sexually assaulting the daughter of his then-girlfriend from the time she was five until she was nine years old.
It means Snodgrass, 36, is convicted of eight charges which each carry a maximum sentence of life in prison as well as mandatory minimum sentences that add up to 120 years.
Seated at the defense table, Snodgrass, who had seemed stolid all week, bowed his head as he listened to the jury foreman read the 12 guilty verdicts, his head seeming to go lower as the toll mounted.
The jury's verdict was announced after 7 p.m., finding him guilty on: Eight counts of raping the child from the time she was five until last September when she was nine, each carrying a maximum sentence of life and a mandatory minimum of 15 years; and four counts of sexual contact with the girl over those years, each count with a top sentence of 15 years in prison.
As deputies put shackles on him, Snodgrass's face crumpled and he formed a heart with his handcuffed hands toward eight or more of his family and friends sitting near him in the gallery. Then the tears came, shaking his body but silent as some of his family were sobbing.
"I love you all more than you can know," he said to his supporters as deputies led him out of the courtroom. He was taken back to the Hughes County Jail where he's been held without bond since his arrest last September days after his ex-girlfriend told police her daughter told her "Brandon molested me."
In the hallway outside the courtroom, one of Snodgrass's sisters wailed loudly, nearly hysterical and losing her breath, as her parents and friends tried to comfort her and quiet her.
Snodgrass's father, Barry Snodgrass, testified he saw a normal, affectionate father/daughter-like relationship between his son and the girl during regular visits with them over several years.
Asked for a comment after the verdict came in, Barry Snodgrass told the Capital Journal: "Pierre, South Dakota, the only place you are guilty unless you can afford to prove you're innocent. That's all I've got to say."
David Siebrasse, Snodgrass's defense attorney, sat in the courtroom for some time after the verdict, gathering his materials and chatting with Judge Mark Barnett. Siebrasse declined to comment on the verdict.
(Barnett retired in March but was tabbed by state Supreme Court Chief Justice David Gilbertson to preside over the trial of the case he had last year.)
Hughes County State's Attorney Roxanne Hammond wore a jeweled pin of a Tyrannosaurus Rex on Wednesday, May 29, when she called the 10-year-old girl to the witness stand. She and the girl had clicked last fall as Hammond was part of interviews with her, Hammond said.
"Of course, my goal was always to get a conviction," Hammond told the Capital Journal. "But the second thing was I wanted to do what I could to make this OK for her. She's been a trouper the whole time."
She couldn't take up the girl's invitation to celebrate Halloween with her as a dinosaur, Hammond said. But the girl inspired Hammond to buy her own inflatable T-Rex costume to hand out candy. The girl later drew a picture of a dinosaur and gave it to Hammond and the prosecutor shows it to visitors at her desk.
"She was tickled I wore (the pin.) It was a neat way to bond with her."
For more than 80 minutes that day before the jury, judge, lawyers and a full court room, the girl answered awkward and terrible questions with poise about what she said Snodgress did to her with big and strange sex toys and with his mouth, fingers and penis. She did not seem to enjoy the attention, but wasn't overcome by the pressure of cross--examination or the way-too-adult subject matter.
She was matter of fact and appeared comfortable saying she wasn't sure about a detail or couldn't remember an exact time period. She acknowledged she had a good and loving relationship with Snodgrass when he wasn't abusing her. She said she kept a dreamcatcher and pictures he made for her when he was in the state prison.
Her mother testified that she and Snodgrass had lived together in Pierre from mid-2014 to early 2018, when the girl was in kindergarten through third grade; save for about 14 months Snodgrass spent in prison for a drug crime.
"I think I won the case because of her," Hammond said of the girl she has gotten to know well. "If she had not been such a strong witness, the other evidence would not have mattered.'
The physical evidence included her DNA found on the tip of a vibrator sex toy which had Snodgrass's DNA on the handle, according to testimony. The girl "knew things she shouldn't have known," Hammond told the jury, including being able to describe what semen felt and looked like and details about Snodgrass's genitals.
In an interview Friday after the verdict came in, Hammond told the Capital Journal that after a particularly grueling interview last fall in which Hammond first heard many of the details of what the girl said Snodgrass did to her, "I went home and cried."
As it happens, Friday was Hammond's fifth wedding anniversary and she was called away from a quick dinner with her husband with news the jury had a verdict.
Hammond said she felt relief, among other things, especially for the victim, after the verdict.
"She is truly a hero for victims of sexual assault. She has been so brave," Hammond said. "Brandon Snodgrass was the coward. Because he did those things to that child and kept her scared all that time."
Hammond said she followed typical prosecution strategy in charging Snodgrass with eight counts of child rape that together carry 120 years of mandatory minimum sentences and also four lesser felony counts that could mean another 60 years in prison.
"The idea is to plead it down," she said. "So you need plenty of room to deal. But he didn't take any deal. He rejected all my plea offers. Did I need to have all those counts for prison time? No. But that's what he got."
No sentencing date has been set and it will be at least two months, court officers say, because he needs to undergo a psycho-sexual evaluation.
Earlier Friday: The jury received the case about 4:15 p.m., Friday, after witness testimony from Tuesday morning until late-morning Friday. On Monday, May 27, attorneys selected a jury panel and made opening statements.
About 5:30 p.m., Friday, May 31, the jury told court officials they were near a verdict and would not need to order dinner,a court officer said.
Several minutes later it was learned the jury had a question on exactly how to distinguish between counts that seemed similar. Judge Mark Barnett gathered attorneys from both sides in the courtroom, read them the question and they agreed on an answer to be sent back to the jury in their deliberation room.
At 6:40 p.m., Friday, the news came the jury had a verdict as Snodgrass waited in the mostly empty courtroom, with his attorney David Siebrasse and a few family members.
Judge Barnett ordered Snodgrass be handcuffed to await the verdict.
"Standard procedure," Barnett told him and his family as deputies put the handcuffs on. "If you are acquitted, the handcuffs will come off in about four seconds and you will be free to go."
Earlier Friday, Snodgrass made his first public statement of innocence at his trial.
He said it to the judge while the jury was out of the courtroom. But it would be all he would say formally at the trial as Snodgrass also informed Barnett Friday morning he would not testify in his own defense.
While the jury was out of the courtroom for a short break Friday morning, defense attorney Siebrasse told Judge Barnett he had advised Snodgrass not to testify, but that it was Snodgrass's "own independent decision" not to testify, made without any coercion.
Barnett told Snodgrass he had the right to testify "if you want to," and asked him if it was his wish not to testify.
Snodgrass answered by reading a short statement while sitting at the defense table: "I do not feel the need to undergo cross examination and possible defamation" in maintaining "my honest, blatant denial" of the charges.
As both sides discussed any last-minute changes to jury instructions on Friday with Judge Barnett, prosecutor Hammond told him she wanted one bit of evidence kept from the jury before it went into deliberation.
Hammond said it was a short passage in a letter from the alleged victim's mother to Snodgrass in prison two years ago in which she "makes a comment that (her daughter) fibs at times."
Snodgrass served about a year in prison on drug charges.
The comment in the letter would be too prejudicial to the prosecution's case and the issue wasn't part of any testimony in court, so the jury might take it out of context, Hammond told Barnett.
But the judge denied Hammond's request, saying he didn't think it was a good idea for him to start editing the letters. Barnett said the jury could adequately weigh the short statement, in part because most parents are familiar with children fibbing at times.
Siebrasse told Judge Barnett shortly before 11 a.m., Friday that he was ready to rest his defense of Snodgrass.
Each side agreed to use up to an hour for a closing statement; Barnett spent about 45 minutes reading more than 50 jury instructions agreed to by both sides.
In his hour-long closing, Siebrasse told the jury that out of about 44,000 entries on four electronic devices belonging to Snodgrass, including a smart phone and a tablet, investigators found only about 345 suspicious entries such as pornographic images.
In her rebuttal closing argument, Hammond told the jury: "345 times. That's approximately 70 times a month he was accessing these images. So it may not be as minor as it may seem. . . That's more than twice a day."
Siebrasse called an expert witness who testified the images and websites where they are found were not typical of child pornograpy as part of his argument that Snodgrass did not fit the profile of someone sexually attracted to children.
Hammond countered with a rebuttal expert witness who testified that child pornography cases often involve the use of adult porn sites with images of people made up to look younger than 18.
It was clear, Hammond told the jury in her closing, that Snodgrass searched on the internet for porn sites identified as "teens," and "young," and with "step-daughter" and "step-daughter," in the titles, evidence he had sexual interest in children such as the victim in this case.