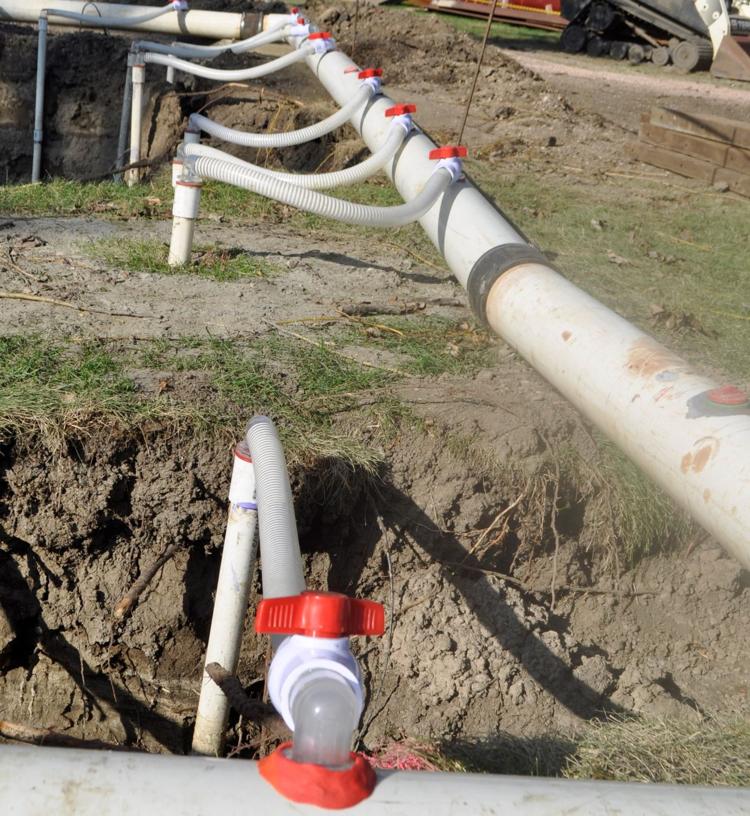 Enough progress has been made on the sewer repair project in Griffin Park in Pierre so it no longer should be called a sinkhole, Utilities Director Brad Palmer told the City Commission on Tuesday.
After two weeks of digging, "it's turned into a big hole," he said in what appeared to be a rather brief and mirthless smile.
The dewatering system installed by an Omaha company has worked in pumping out the groundwater that has bedeviled work crews trying to get at the damaged sewer pipe, Palmer said. "It's really helped us get some work done," he said.
The damaged 24-inch-diameter pipe likely created the sinkhole which appeared about July 12 on an asphalt walking path in the park near the Missouri River.
City crews began work about July 17, fighting rain and high river and high groundwater as they tried to dig down to the pipe about 12 feet below ground.
On Tuesday, city workers were able to get at the old sewer pipe and get a camera inside, Palmer said.
"We could see still some damaged pipe up there." Which means the crews have to go farther."
Palmer showed some slides of the work to the Commission during its regular, televised weekly meeting that is shown in the local Oahe-TV at Channel 8 on the local cable system.
It appears as if the hole has been dug much bigger that it was, with a second trench box of steel installed to give workers safe working conditions, Commissioner Blake Barringer said, asking Palmer how much farther the work would go.
With the better views now of more damaged sewer pipe, "We will bring in another trench box tomorrow and go an additional 20 feet," Palmer told Barringer on Tuesday evening, July 30.
"And then we will run the camera in there and see what that pipe looks like."
"So we will would end up with 30 to 40 feet of pipe" fixed, Barringer said.
That's likely, Palmer said.
But it's still a temporary fix until a much more permanent and bigger repair to the decades-old sewer pipe in the Griffin Park area can be done late this year or next year, Palmer said.
The decades-old 24-inch clay pipe, lined with plastic in the 1990s, is made up of four-foot-long sections that present lots of joints where leakage issues can arise, one city worker said.
Already lessons are being drawn from the sinkhole-now-big-hole case.
In other business on Tuesday, the City Commission approved spending another $10,112 on a sewer upgrade project going on near Jefferson Elementary School. It's a mile away or more and well uphill of the mainline sewer break in Griffin Park where two-thirds of the city's sewage flows.
Kyle Kurth, a staff engineer for the city, told the Commission that Hydro-Klean, the contractor working on the sewer line near Jefferson on the north end of town, suggested adding in money in a "change order," to fix an adjacent section. Since the site already is open and the logistics are right, it could be done quicker and easier now than coming back another time and reopening the ground to do what already needs to be done.
The contractor is using a process called CIPP sewer lining, for "cured-in place pipe," that rehabilitates old sewer pipe inexpensively without tearing up all the ground and installing entirely new pipe.
The project near Jefferson was initially bid at $266,422 so the proposed change order is fairly small.
"It only makes sense to do it now," said Commissioner Jamie Huizenga.
This sewer line by Jefferson is not a mainline like the pipe in Griffin Park, he said.
But after the past two weeks of the Griffin Park sinkhole drama "we understand the value of sewer line maintenance," Huizenga said.
He moved to approve the extra spending and the Commission voted 4-0 for it. Commission Vona Johnson was absent.