Pierre Commission makes new move: taking over lot, taking down house to re-sell parcel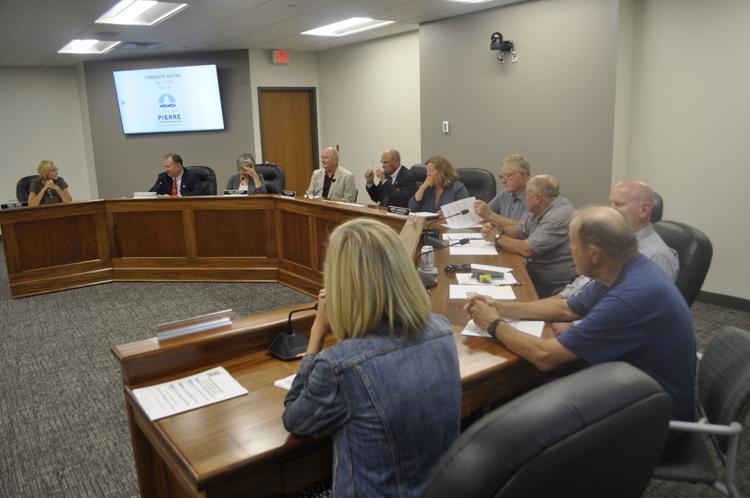 For the first time in memory, the Pierre City Commission took over a property that had been taken back for unpaid taxes, tore down the house, spruced up the lot and replatted it to sell it.
On Tuesday, Aug. 6, the Commission voted 5-0 to pass two resolutions about it.
City Planner Sharon Pruess told the Commission the now-vacant lot at 412 S. Brule had been a long-vacant house on which the taxes had long gone unpaid.
The lot is a half-block toward the Missouri River off Dakota Avenue, not much more than two blocks from the now-empty former city hall building at 222 E. Dakota Ave. Which the city has up for sale, by the way, since it bought the new one on the northeast side of town.
Relatives of the former residents of the now-vacant lot on Brule told the county some time ago there was no one to pay the taxes and the county took it over. Then the discussions began about what to do. County officials knew the house wasn't livable or fixable, so demolition was the thing.
In talks with the school district and city — the other property tax collectors in the community — the county decided to transfer the property to the city which agreed to demolish the home and put it the lot up for sale.
On Tuesday, Pruess told the Commission it needed to pass one resolution to "vacate" an alley on the property, meaning the city would no longer be in charge of it. Another resolution authorized Pruess to re-plat the lot so it can be put up for sale.
The lot is about about 9,500 square feet, Pruess said.
Commissioner Jamie Huizenga said in his 11 years on the Commission this was a new one for him. "This is really our first action like this, of taking possession" of a property for unpaid taxes, and getting it ready for resale, he said in response to Pruess.
"I can't recall any other property we have done this with," Pruess said.
"It's not that we want to get into the business, but it could come up again," Huizenga said.
"It could," Pruess said.
After the meeting, Huizenga told the Capital Journal: "We are not looking to get into the real estate business. But this was cleaning up a property that people living there had not tended to and it gets it back on the tax rolls."
Pruess said the three owners of adjoining properties all signed on to the idea.
Huizenga said it's not a quick and easy process, because the county, city and school district all have to agree on how to do it, and how is going to demolish the house, in this case.
"We essentially did it ourselves and put our city crews to work on it," Huizenga said. "That takes up their time, too. And we had to haul it to our landfill."
"So it's not something we are looking to get into on a big scale, but if the situation arises, it's still better to clean up an abandoned property and keep it from deteriorating more."