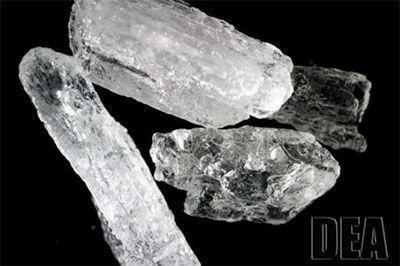 A Mexican man arrested last Thanksgiving morning near Vivian, South Dakota, driving a car stuffed with methamphetamine was sentenced this week by a federal judge in Pierre to 41 months in prison.
Heriberto Navarro Ortiz is 33 and from San Jose, Mexico, according to U.S. Attorney Ron Parsons in announcing that U.S. District Judge Roberto Lange sentenced him on Wednesday, July 31, for distributing meth.
With credit for time served and other federal prison time off, Ortiz should be out by about Thanksgiving 2021.
Ortiz is represented by Randall Turner, a federal public defender. Assistant U.S. Attorney Cameron Cook prosecuted Ortiz.
Ortiz' tale tells much about the meth trade.
"Most of the meth trafficked in South Dakota and across the United States is produced by violent Mexican drug cartels and smuggled across our southern border," Parsons said in a news release. "Federal, state, local and tribal law enforcement authorities are working together to do everything possible to stamp out this poison and hold the traffickers accountable."
Parsons praised the state Highway Patrol for its key role in nabbing Ortiz on the holiday last November 22.
It was about 9:42 a.m., Nov. 22, 2018, at mile marker 216 on Interstate 90, about 4 miles east of the Vivian exit at U.S. Highway 83, which is 30 miles south of Fort Pierre.
A Patrol trooper stopped a silver Chevy Malibu for speeding.
The trooper "gained consent to search the car," according to Ortiz's factual basis statement required as part of his guilty plea in a deal with prosecutors in April.
The trooper found a package wrapped in plastic tape beneath the carpet covering a rear wheel well in the trunk. It looked like illegal drugs, so the trooper detained Ortiz and had the car towed to the state's Department of Transportation shop in nearby Presho.
A deeper search of the car in Presho found 19 packages hidden in the car weighing a total of about 21 pounds: six packages in the wheel well, four inside the backs of the driver's seat and the passenger's seat, and nine under the plastic cowling that covers the bottom of the windshield including the wipers.
The state Public Health Laboratory found the packages contained about 8.4 kilograms, or about 18.5 pounds, of methamphetamine.
Ortiz said he was contacted last fall by a former associate in Mexico he hadn't seen for three years who knew Ortiz had lost his police job and needed money.
The associate, whom Ortiz knew only as "Valiii," offered him $3,500 to take a car from California to Minnesota. Ortiz said he didn't know just what the car contained but figured it was illegal drugs such cocaine or marijuana or something.
With expenses paid by Valiii, Ortiz flew from Guadalajara, Mexico, to Tijuana, near the California border, and crossed the border on foot on Nov. 17, 2018, meeting up with family members in the Los Angeles area. (Ortiz said he had been in the United States seven or eight times before November.)
Valiii contacted Ortiz and told him to get to Apple Valley, California and pick up the silver Malibu from someone Ortiz says he did not know.
Valiii told Ortiz to drive the car "to a certain city and send (Valiii) a picture of his location on Google Maps when he arrived. Valiii would then tell (Ortiz) what route to take to the next destination."
Ortiz said he did not know exactly where he was going to deliver the car, that Valiii would tell him once Ortiz got there.
According to law enforcement sources, Ortiz's story is typical: he doesn't know much about who hired him or where he's going or even what he's carrying. So when he's arrested, it's difficult to trace back and find others behind the deal.
But it was a pretty big deal.
According to Consumer Affairs magazine online recently, using Drug Enforcement Administration information, meth at the street, or retail, level, can sell for $400 to $3,000 an ounce. That means the 18.5 pounds of meth Ortiz was moving could have been sold for as much as $900,000 retail.
Ortiz also illustrates the big trend in recent years in the meth trafficking.
Fifteen years ago, the concern about meth in the Dakotas and Minnesota was of rural "labs," in abandoned farm homes where local dealers and users were cooking their own under dangerous conditions.
But that trend faded away and in recent years a new supply of more potent and more affordable meth made in Mexico has become the mainline supply across the United States, experts say.
An April 2018 article in the Star Tribune in Minneapolis reported that Mexican drug cartels controlling the meth trade "have hand-picked Minnesota as the regional hub for their entire Upper Midwest meth trade."
In 2018, a man was arrested headed to Minnesota from Mexico with 152 pounds of meth in the car.
Last year, a Wisconsin man and a Pierre woman in a car carrying meth coming from Colorado headed to Minnesota were stopped at a rest area on Interstate 90 in South Dakota not far from Plankinton. During the arrest, federal agents shot the man to death. The woman, who told the Capital Journal the man had a gun and had been dealing meth, has been charged in federal court.
In the past few weeks, a Fort Pierre man and a Pierre woman appeared in federal court in Pierre after they were arrested in a car on Interstate 90 in Murdo, not far west of Vivian, with a distribution-sized amount of meth. Both pleaded not guilty. A third person in the car, a man from Pierre, was arrested and charged in state court in connection with the drugs, but his name has not shown up in federal court documents.
Meth dominates the criminal cases in Pierre and across the state, whether it's domestic violence incidents fueled by meth or repeated addiction causing crimes such as theft, burglary and forgery, as well as drug possession and dealing cases.
But law enforcement experts say that only a small fraction of the meth crimes get to court, although court dockets are filled with them.
"Minneapolis-St. Paul has become a major market," Kent Bailey, a former senior U.S. Drug Enforcement Administration agent who now leads a federally funded counter-narcotics program in the Minneapolis-St. Paul area, told the Star Tribune last year. "You can sit there and keep your head in the freaking sand but the sheer volume of the drugs being seized indicates otherwise."
With credit for the time he's sat in jail — he remains for now in the Hughes County Jail in Pierre where he's been since November — and the 54 days off per year given in the federal system, it appears Ortiz will spend about 28 more months behind bars. He will then be on a year of supervised probation.
His cooperation included not only pleading guilty to one charge against him but  also not objecting to being jailed pending sentencing.
Judge Lange ruled Ortiz did not pose a risk of using illegal drugs after he's released that would call for regular testing.