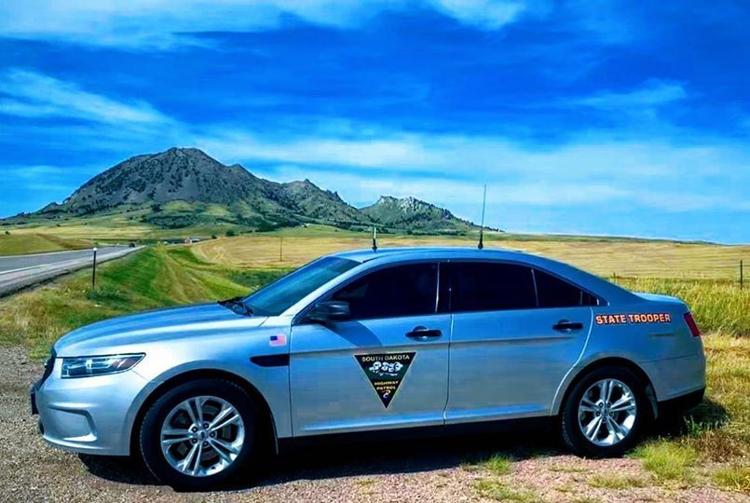 Eight men were arrested and face charges in a child sex crime sting led by the feds during the 2020 Sturgis Motorcycle Rally which ended Sunday Aug. 16.
The special law enforcement action has become one of the recent traditions pegged to the Rally that brings about a half million people on average each year to the small town of 7,000 in the Black Hills near Rapid City.
This year it appeared the attendance was down, but not as low as half of normal as some leaders in Sturgis predicted last month.
One good measure is the state Department of Transportation's vehicle count, done every Rally since 1990.
The DOT reported on Tuesday that the number of vehicles that entered Sturgis during the 10 days of the 2020 Rally from Friday, Aug. 7 through Sunday, Aug. 16, was 462,182. That's down 7.5% from 2019's 499,654, and down about the same from 2018 and 2019. But it's pretty close to a longer-term average vehicle count.
The city of Sturgis' complicated measure of Rally attendance using utility uses, sales tax and several other factors won't be ready for weeks. But it's tracked fairly consistently with the DOT vehicle counts.
For what it's worth, the now-yearly sex crime sting during the Rally, while much smaller numbers-wise, tracked with recent years in numbers of busts.
This year's sting began on Aug. 7, the first day of the Rally and continued through Thursday, Aug. 13, according to a news release on Tuesday from U.S. Attorney Ron Parsons.
The state's top federal prosecutor released the names of the eight men who face serious federal charges in the sweep that apparently involved arrests made in Rapid City.
In at least one case, a target of the sting tried to escape on his motorcycle, fought with agents,threatened suicide and tried to pull a gun out of his vest and didn't stop fighting until he was zapped with a Taser, according to court documents.
Two of the eight men were arrested and charged with the attempted commercial sex trafficking of a minor:
Robert Lee Goodwill Jr., 20, Rapid City;
Kevin William Clements, 22, Claysville, Pennsylvania.
Six of the eight men were arrested on allegations of attempted enticement of a minor using the internet:
Cody Wayne Hopkins, 29, Montgomery, Pennsylvania;
Michael Ray Hudson, 32, Rapid City;
Travis John McDonald, 28, Rapid City;
William Nicholas Riley, 60, Sturgis;
Darren Wilber Harrison, 25, Rapid City;
Christopher Covey Dale Truax, 33, Rapid City.
The charges carry mandatory minimum prison time and can mean up to life in prison, in theory.
The charge of attempted sex trafficking of a minor carries a mandatory minimum sentence 15 years if the victim is younger than 14, and a mandatory minimum of 10 years if the victim is from 14 to 17 years old, according to Parsons.
The charge's maximum sentence is life and a $250,000 fine and five years, or more, of supervised probation after release from prison.
The charge of attempted enticement of a minor using the internet carries a mandatory minimum sentence of at least 10 years in prison, up to a maximum of life in prison, and from five years to life on supervised probation after a prison term, according to Parsons.
Restitution to victims may also be ordered from someone is convicted of either charge.
The agencies involved in the operation were the state Department of Criminal Investigations and the state Internet Crimes Against Children Task Force, federal Homeland Security Investigations, the U.S. Attorney's office, the Rapid City Police Department and the Pennington County Sheriff's Office in Rapid City.
Here's how one of the men was arrested, according to federal court documents in the case:
From Aug. 6-11, a male agent with the state's Division of Criminal Investigations posed as a 13-year-old girl on the internet application, "Badoo," which is a site where "people meet one another, sometimes to engage in sex acts," according to the affidavit of probable cause from Michelle Pohlen, a special agent with the federal Homeland Security Investigations trained to investigate sex crimes against children using the internet.
Starting on Aug. 6 and continuing until Aug. 11, Clements was chatting with the DCI "13-year-old girl," negotiating for sex.
The "girl" informed Clements "she" was only 13 and would perform oral sex for $50 but needed $100 for "anything else," Pohlen said in the affidavit. Clements asked how much for anal sex. The "girl" said she had to ask her "pimp," and then agreed to $100.
On Aug. 11, Clements agreed to meet the "pimp," to show him the money to prove he had it, then the pimp would give Clements a key to a nearby hotel room where he could have sex with the "girl," Pohlen said.
Law enforcement officers watched Clements drive his bike to a gas station, go into a convenience store, come back out and drive immediately across the street to the parking lot where he was to meet the pimp.
An undercover agent playing the role of the pimp talked to Clements who "acknowledged he was there to have" the agreed upon sex with the 13-year-old girl for $100, according to Pohlen's affidavit.
"The undercover agent gave the take-down signal and when the other law enforcement agents arrived on the scene, Clements attempted to flee by driving his motorcycle over the curb," Pohlen wrote. "He fought with agents, attempting to retrieve the gun he had in his vest and continued to physically fight with agents until he was Tased. After he was handcuffed, he told (the DCI agent who posed as the 13-year-old girl) to 'just shoot me.' After he was medically cleared, he was transported to interview."
Pohlen said that during the interview Clements admitted it was his phone number that showed up on the internet chat with the agent posing as the girl.
Clements then asked for a lawyer "but also volunteered he was going to kill himself as soon as he was released from custody," according to Pohlen..
Like in other cases, prosecutors asked U.S. Magistrate Judge Daneta Wollman to seal the case documents concerning Clements because it was an ongoing investigation. Pohlen asked Wollman to seal the case documents from public view because "premature disclosure of case material may give targets an opportunity to flee, destroy or tamper with evidence, change patters of behavior, notify confederates, or otherwise seriously jeopardize the investigation."
Wollman did seal the case, and others, for a couple, three days.
Clements was jailed and made his initial appearance before Wollman in Rapid City at noon on Thursday, Aug. 13.
Represented by Tom Diggins, a federal public defender, Clements pleaded not guilty and asked to be released. Assistant U.S. Attorney Heather Sazama asked Wollman to detain Clements. Wollman ordered him detained.
It appears that by Aug. 13, the investigation was far enough along that Wollman unsealed court documents in the cases.
On Monday, Aug. 18, Spearfish attorney Matthew Kinney notified the federal court in Rapid City he would be appearing on behalf of Clements.
The number of men arrested in the annual sex crime sting during the Sturgis Rally has averaged 7.7 during the seven years 2013-2019.
It's increased, though. In the four years 2016-2019, an average of 9.25 men were arrested and charged each year.
Their sentences in federal prison have been from a couple to several years. The sentences demonstrate that federal judges aren't bound by the mandatory minimum sentences set in statute and that there are a lot of variables in federal sentencing guidelines.
In 2017, a Nevada man was sentenced to two years in federal prison after being arrested during the 2015 Rally and charged later that year.
An Indiana man got a three-year sentence in 2018 for an arrest during the 2016 Rally.
In 2018, a Winner, South Dakota man was sentenced to five years in federal prison after being arrested during the 2016 Rally and charged with using the internet to solicit someone he thought was a 15-year-old boy — a role played by a DCI agent — for sex and to traffic in child pornography.