Who Will Trump Pick? President likely to nominate woman for Supreme Court on Saturday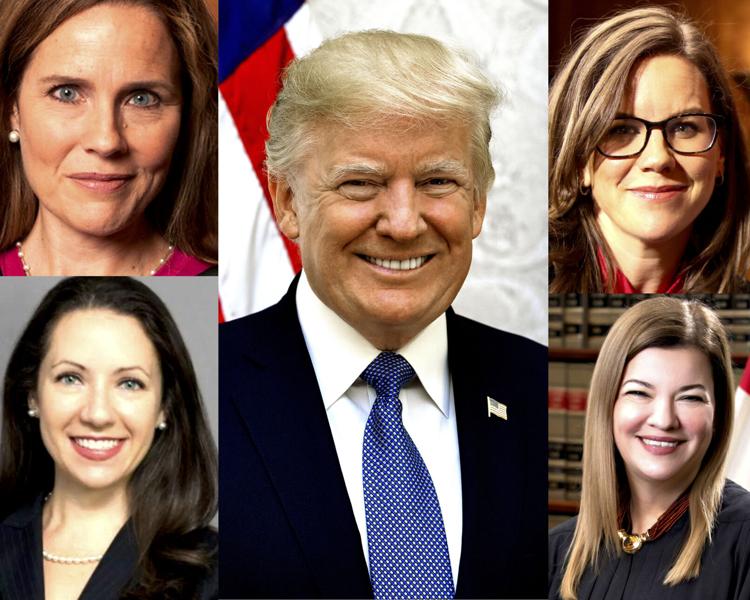 Tuesday, President Donald Trump said he will announce his nominee to replace the late U.S. Supreme Court Justice Ruth Bader Ginsburg on Saturday at The White House in Washington, D.C.
And U.S. Sen. John Thune, R-S.D., seems to believe that in his role as majority whip, he has enough GOP votes to get Trump's nominee through the Senate confirmation process.
"Whomever (Trump) nominates, I am confident that she will be in the mode of the president's other Supreme Court appointments – a nominee with a profound respect for the law and the Constitution," Thune said Tuesday while speaking on the Senate floor at the U.S. Capitol in Washington, D.C.
"Someone who understands that the job of a Supreme Court justice – or any judge – is to interpret the law, not make the law. To call balls and strikes, not rewrite the rules of the game," South Dakota's senior U.S. Senator added regarding what he expects from a new justice.
Republicans currently control the Senate by a count of 53-47. However, as of late Tuesday, the only GOP members who said they would not support a Trump nominee were U.S. Sen. Lisa Murkowski, R-Alaska, and U.S. Sen. Susan Collins, R-Maine.
"The Constitution gives the president the power to nominate and the Senate the authority to provide advice and consent on Supreme Court nominees. Accordingly, I intend to follow the Constitution and precedent in considering the president's nominee. If the nominee reaches the Senate floor, I intend to vote based upon their qualifications," U.S. Sen. Mitt Romney, R-Utah, said.
"I have and will continue to support judicial nominees who will protect our Constitution, not legislate from the bench, and uphold the law. Should a qualified nominee who meets this criteria be put forward, I will vote to confirm," U.S. Sen. Cory Gardner, R-Colorado, added.
After Trump already saw a GOP-controlled Senate confirm Gorsuch and Kavanaugh, Democrats fear a third Trump nominee confirmed by a Republican Senate would endanger the 1973 Roe v. Wade ruling, which legalized abortion. There are several other matters that concern Democrats about another Trump nominee, particularly the 2015 Supreme Court ruling that legalized same-sex marriages.
Not surprisingly, some high-profile Democrats are rather fired up about this.
"The Supreme Court makes decisions on issues that affect millions of Americans—including health care, the economy, our fight for racial justice, climate change, and more. The voters must choose a president, and that president should nominate Justice Ginsburg's successor," U.S. Sen. Kamala Harris, D-Calif., who is the party's 2020 vice presidential nominee, tweeted.
"Congressional GOP have made one thing extremely clear: To them, there are no rules. There are no principles. There is only power. They are ruthless, and always have been in my lifetime. Dems must recognize they cannot be reasoned with at present & better adapt to that reality," added U.S. Rep. Alexandria Ocasio-Cortez, D-N.Y., a member of the group of left-wing congresswomen known collectively as "The Squad."
However, Thune said GOP senators would not be intimidated by "threats" from Democrats.
"One thing I can say is that Republicans won't be deterred from performing our constitutional role by Democrats' undemocratic threats. We will work to fill this Supreme Court vacancy, and I look forward to receiving and reviewing the president's nomination in the near future," he said.
On Wednesday, Thune continued affirming his position.
"One of the principal reasons that many GOP senators – myself included – ran for office was to confirm principled judges to our courts," he said.
Who Might Trump Pick?Virtually all indications are that Trump plans to select a woman as Ginsburg's replacement. Four of the women getting plenty of attention as the possible pick in the national media are:
Amy Coney Barrett, 48, of Indiana;
Britt Grant, 42, of Georgia;
Barbara Lagoa, 52, of Florida; and
Allison Jones Rushing, 38; of North Carolina.
Barrett:Her Notre Dame Law School biography states of Barrett: "She is a Notre Dame Law School alumna and has taught as a member of the Law School's faculty since 2002."
"She earned her J.D., summa cum laude, from Notre Dame, where she was a Kiley Fellow, earned the Hoynes Prize, the Law School's highest honor, and served as executive editor of the Notre Dame Law Review."
"Before joining the Notre Dame faculty, Judge Barrett clerked for Judge Laurence H. Silberman of the U.S. Court of Appeals for the D.C. Circuit and for Associate Justice Antonin Scalia of the U.S. Supreme Court."
Grant:
A member of the conservative Federalist Society, the organization states of Grant: "Judge Grant was appointed to the federal bench in August 2018 after serving as a Justice on the Supreme Court of Georgia. Prior to her appointment to the bench, she served for two years as the Solicitor General of Georgia and, before that, as counsel for legal policy to the Attorney General of Georgia.
"She earned her J.D., with distinction, from Stanford Law School, where she served as managing editor of the Stanford Journal of International Law and as senior articles editor of the Stanford Law and Policy Review. She was also the Co-Founder and Co-President of the Stanford National Security and the Law Society, and the President of the Stanford Law chapter of the Federalist Society."
Lagoa:Trump's Supreme Court list states of Lagoa: "Barbara Lagoa is a Judge on the United States Court of Appeals for the Eleventh Circuit. Before her appointment in 2019, Judge Lagoa was a Justice on the Supreme Court of Florida. She also served as District Judge on the Florida Third District Court of Appeal and as an Assistant United States Attorney for the Southern District of Florida. Judge Lagoa earned her B.A., cum laude, from Florida International University and her J.D. from Columbia Law School."
Rushing:Of Rushing, Trump's list states: "Allison Jones Rushing is a Judge on the United States Court of Appeals for the Fourth Circuit. Prior to her appointment in 2019, Judge Rushing was a partner at Williams & Connolly, LLP. Judge Rushing clerked for Justice Clarence Thomas on the Supreme Court of the United States, Judge David Sentelle on the United States Court of Appeals for the District of Columbia Circuit, and then-Judge Neil Gorsuch on the United States Court of Appeals for the Tenth Circuit. Judge Rushing earned her B.A., summa cum laude, from Wake Forest University and her J.D., magna cum laude, from Duke University School of Law."