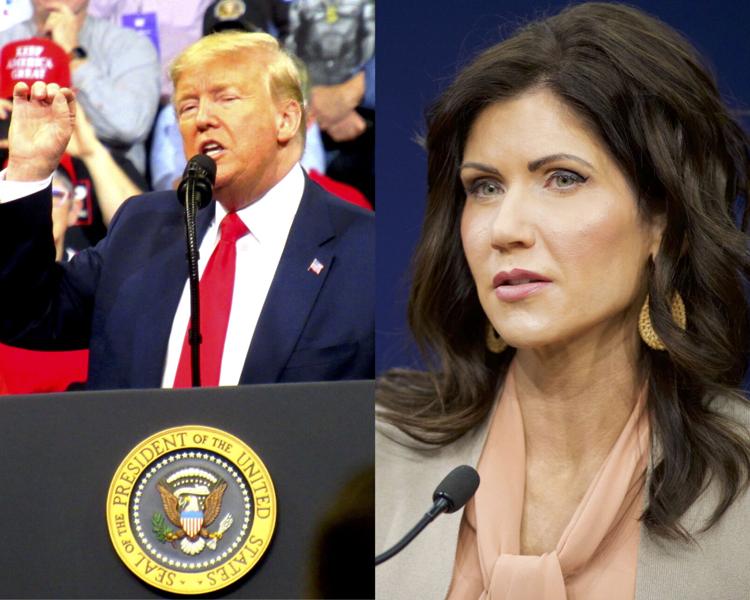 A strong and vocal supporter of President Donald Trump, Gov. Kristi Noem is slated to address the Republican National Convention next week.
"She is scheduled to speak. At the moment, it looks like she'll be speaking on Wednesday," Noem spokesman Ian Fury told the Capital Journal on Tuesday.
The quadrennial convention is set to begin Monday in Charlotte, North Carolina, and expected to run through Aug. 27. However, as is the case with this week's Democratic National Convention, some or most of the RNC may actually take place through virtual means due to the COVID-19 pandemic.
Trump and Vice President Mike Pence are expected to be formally renominated to carry the GOP presidential banner on Monday. According to the Charlotte Observer, Pence is expected to deliver his acceptance speech in Baltimore, Maryland on Aug. 26. At this time, it is believed that Trump will make his speech at The White House on Aug. 27.
Noem has steadily raised her profile in national conservative political circles, making regular appearances on Fox News in recent months. Despite criticism from some, Noem has declined to ever issue a shelter-in-place order, or mandate masks in public, amid COVID-19.
Furthermore, some of Noem's recent tweets are as follows:
July 15: "Here we go again... As I said months ago, the call to apply a one-size-fits-all approach to #COVID19 is herd mentality; it's not leadership."
July 16: "NEWS: South Dakota closed the 2020 budget year with a $19 million surplus. Despite challenges with #COVID19, we remain in a strong financial position.
July 17: "South Dakota took a different path, a remarkable one: we gave our people their Freedom."
July 17: "This is America. We pray, we sing the Star-Spangled Banner, and we celebrate the liberties that make our country special."
July 28: "Our state's future depends on educating our kids. Online learning got us through the initial phase of #COVID19, but it's absolutely NOT a long-term solution. We need our kids back in the classroom."
Aug. 5: "We need more optimism in this country. There's too much negativity right now. We're in a good spot in our fight against #COVID19. We've learned how to better treat this virus. So let's be optimistic and set a better tone for our children."
Aug. 10: "There is a risk associated with everything that we do in life; more South Dakotans have died from accidental injuries than from #COVID19 in the past 5 months. We mitigate risks by taking proper precautions."
Aug. 14: "Despite significant dysfunction in Congress, @realDonaldTrump continues to problem solve and provide great leadership during our #COVID19 recovery effort."
As for the RNC, it was originally scheduled for Charlotte, but Trump later wanted to conduct a portion of it in Jacksonville, Florida. This plan was eventually scrapped, but RNC officials decided to proceed with the Charlotte component.
North Carolina, with its 15 Electoral College votes, is one of several key battleground states for which Trump and Democrat Joe Biden are expected to compete fiercely for this year. Other major battlegrounds for this year's presidential race are:
Texas — 38 electoral votes
Florida — 29 electoral votes
Pennsylvania — 20 electoral votes
Ohio — 18 electoral votes
Michigan — 16 electoral votes
Georgia — 16 electoral votes
Arizona — 11 electoral votes
Wisconsin — 10 electoral votes
Iowa — 6 electoral votes
For perspective on population, South Dakota has only 3 electoral votes. Trump is heavily favored to carry the state, as he won it by 30 points in 2016. The last Democrat to win South Dakota in the presidential race was President Lyndon B. Johnson in 1964.
Trump, meanwhile, kept up with his regular battles with seemingly anyone on Wednesday, even taking a Twitter shot at Goodyear Tires, a company originated and still headquartered in Akron, Ohio.
"Don't buy GOODYEAR TIRES. They announced a BAN ON MAGA HATS," the president tweeted. "This is what the radical left Democrats do."
The company responded: "Goodyear has always wholeheartedly supported both equality and law enforcement and will continue to do so."