As historically low temperatures in February crippled power generation systems across the country, the city of Fort Pierre played a small but important role in keeping the lights on for a network of customers that spans much of the midwest.
Fort Pierre owns a trio of emergency diesel generators that can be turned on to power the city in the event of an outage — or to take the city's load off the regional power network.
They've only been used a handful of times since they were built in 2004, and never more than a few hours at a time. That changed last month when they ran for a record 82 hours straight.
When running, they supply enough power for the whole town, which frees up power from other sources to go where it's needed. They also produce around one megawatt of excess power that goes straight back to the regional grid.
"They did what they were meant to do at the time they were needed," city Superintendent Vern Thorson said Tuesday. "They were built for a situation like that, it's just taken a lot of years before it's happened. It sure is an eye-opener that there are times when you need that."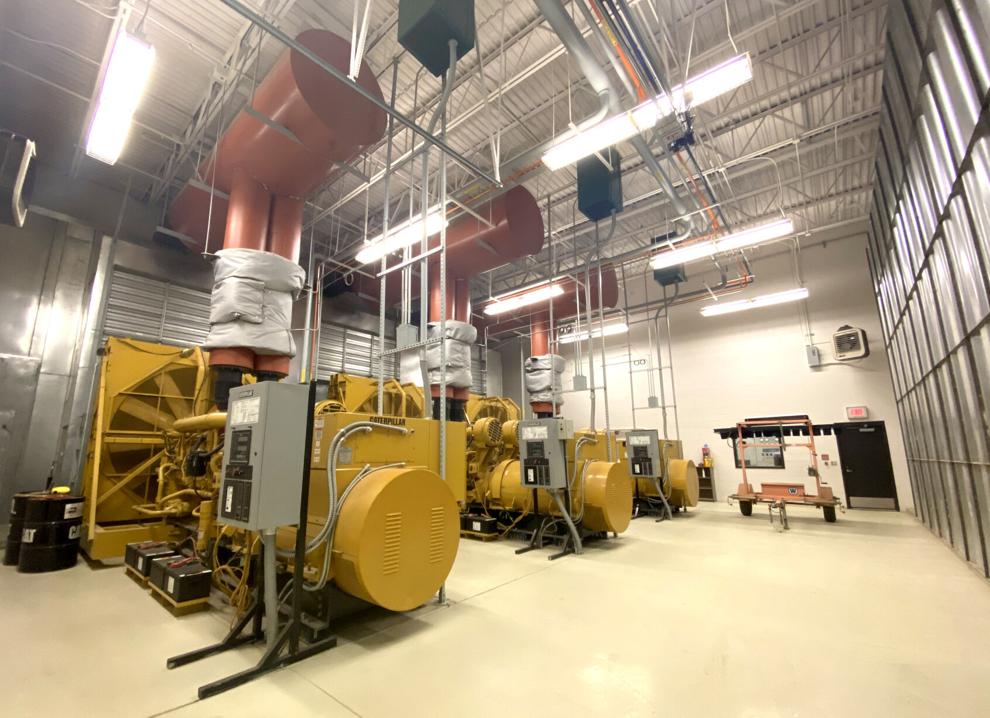 A few days before the winter storms were expected to impact power availability in the southern U.S., the city got a call from Missouri River Energy Services, an organization that helps manage energy distribution for dozens of area municipalities.
"Fortunately they're pretty good planners and they were planning ahead that they knew they would be struggling, especially with night time when solar doesn't work," Fort Pierre Lead Lineman Terry Schroer said. "They pretty much called ahead and gave us a few days' heads up that it looks like it's gonna be needed. 'Can you be ready?'"
The three diesel generators are each the size of a car and sit in a nondescript building near the cross of Salebarn and Buffalo roads in Fort Pierre. When they're turned on, they provide about 6 megawatts of total power.
The diesel generators each use about 140 gallons of fuel per hour. When they were running in February the city had around 10,000 gallons delivered per day to its generation station.
"It kept the local fuel supplier busy," Thorson said.
City staff stayed around the clock to make sure everything was going smoothly.
"The electric department stayed here and kept things running. They checked them intermittently and through the night," he said.
The generators' other purpose is to be ready if an outage affects Fort Pierre. The city gets around 40% of its power from Missouri River Energy Services and the rest from another organization called the Western Area Power Administration. But all of that power comes in from the outside world through a single line.
While the city of Pierre doesn't have a similar generation station, its power comes in through multiple lines, Thorson said.
"It worked well and it's a good thing that our forefathers put it in when they did," Thorson said of the generation station.
One of those forefathers is Bob Ricketts, a Fort Pierre City Council member who was first elected 40 years ago.
Ricketts, 81, is retiring next month and is the only active council member who was serving when they decided to build the generation station in the early 2000s.
In the years leading up to the decision, Ricketts recalls that the town suffered from frequent power outages.
"Building it wasn't a real popular thing but I guess that the voters were tired of running out of power," he said Tuesday.
As they were weighing their options, Ricketts said he wanted to make sure the solution they chose would provide enough power to cover the whole town.
In the years since it was finished, Ricketts has seen the $3.2 million original investment pay off several times.
"It's helped out before and it's really been great. We wouldn't know what to do without it," he said. "Some of the people in town naturally get a little upset when they don't have power."