Many residents likely noticed the towering column of smoke rising into the sky south of Fort Pierre last Thursday. That smoke was from fire crews hard at work completing a prescribed burn about 18 miles south of Fort Pierre, just east of U.S. Highway 83.
The U.S. Forest Service's Fort Pierre National Grassland's Engine Captain Ryan Cumbow said the fire successfully burned more than 90 percent of the available fuels. The crews started the day with the hope of burning 70 percent of the fuels.
But nature threw fire crews a curveball later in their day.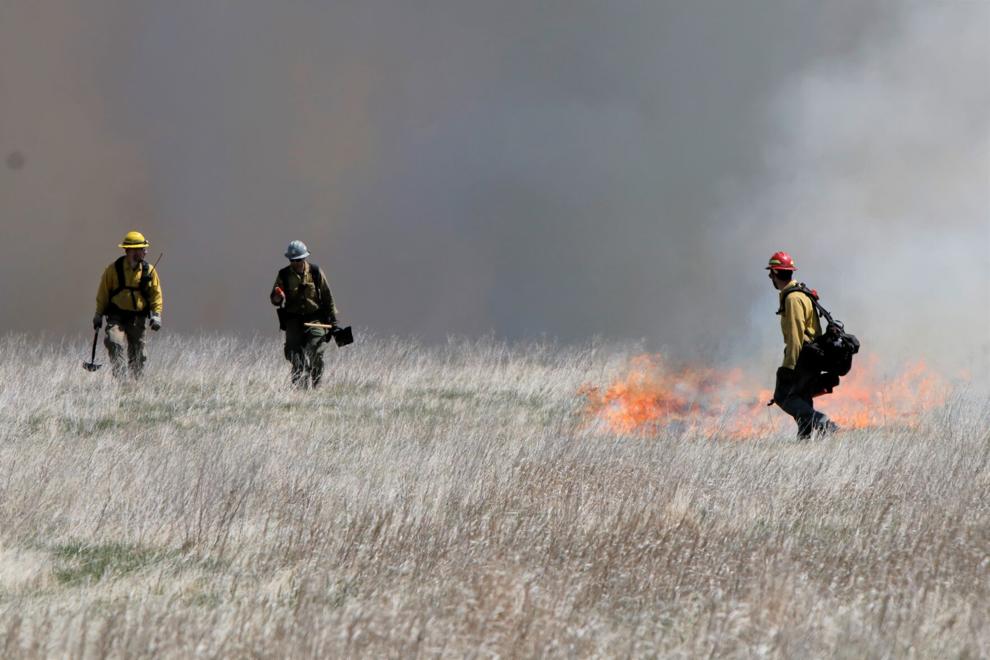 "And both teams were seeing something weird. Both teams were seeing something totally opposite of what was planned," Cumbow said.
Shifting winds, with 19-mph gusts, caused the fire to spill over the perimeter.
"We call it a slop over," Cumbow said. "It's nothing that's detrimental to our plan. It's nothing that's going to exceed the resources that are on-scene to call for mutual aid or anything like that. It just went into the next pasture — 5 acres more than what we wanted."
But Fort Pierre's Forest Service crew had plenty of help on hand to keep the fire under control. Pierre, Pierre Rural, Fort Pierre, Vivian, Kennebec, Murdo and Draper firefighters joined several Forest Service fire crews for the prescribed burn.
"The people that were on that burn had 20-plus years of experience on a lot of our overhead team, which was our task force leaders and our firing bosses and myself," Cumbow said.
Invasive species
The prescribed burns fire crews ignite do more than just clear excess fuels from prairies. The fires also help keep invasive vegetation in check.
It's a process District Ranger Dan Svingen knows well.
"The prairies evolved with grazing and fire," he said. "And our native species — our native grass species — need that periodic disturbance in order to thrive. What we're seeing now is a real lot of pressure from invasive grasses — and in our part of the country, it's particularly Kentucky bluegrass and smooth brome."
Invasive species spread throughout the prairies on their own and from humans.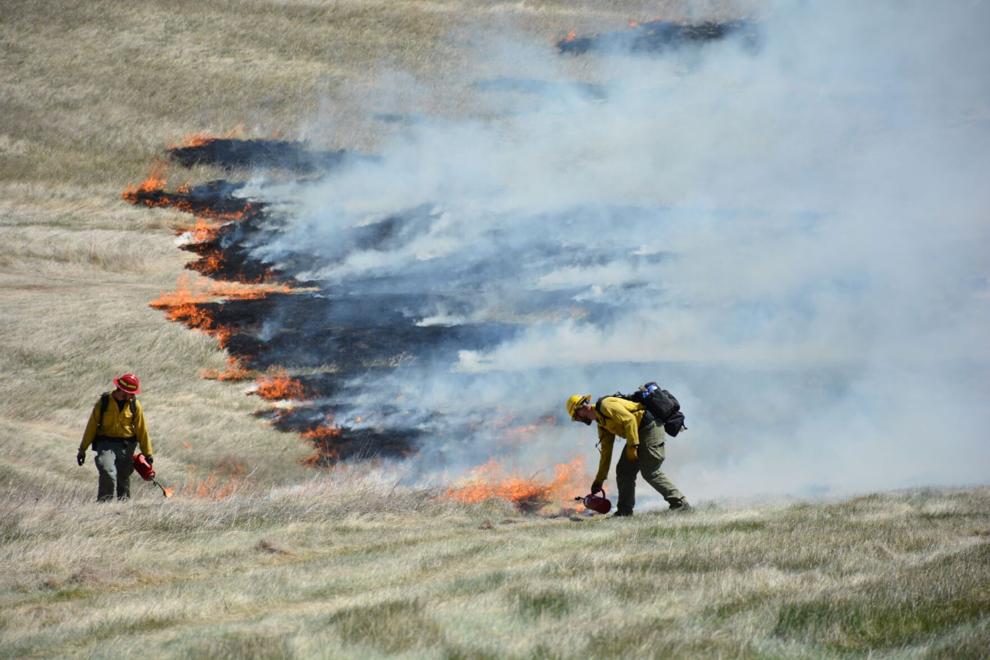 "They're both also widely planted on purpose," Svingen said. "So, for many years folks have been planting them for forage, and Kentucky bluegrass is a famous golf course grass, it's a famous yard grass. And they both have adapted to North America quite readily and spread quite quickly."
Svingen found there isn't a silver bullet when dealing with invasive species. But by combining cattle grazing and fire, Forest Service personnel, and their partners in the state, can stress the invasive species and give native plants a better chance of not being replaced.
"Our best chance is to come up with the local mix of those disturbances and then non-disturbance," Svingen said. "So, the local mix of grazing pressure and periodic burning and periodic rest that will tip the balance from those invasive, exotic non-native species to our desired native species — bot warm-season grasses and cool-season grasses."
And allowing the invasive species to take over the prairies could have wide-ranging impacts beyond the loss of native plants. Svingen said monoculture vegetation could reduce insect and wildlife biodiversity, impacting recreationists from wildlife watchers to hunters.
"They do provide some forage quality. That's why people have been planting them," he said. "And they do provide some wildlife cover. The main dilemma is that they form monocultures. And like so many things in life, it's not good — you can have too much of a good thing."
While the invasive species provide nutrition to animals early in their season, they lose some nutritional value as the season progresses. Svingen finds it's better to have a mix of species like native warm-season grasses, which can pick up that nutritional slack during different parts of the year. But the invasive species tend to crowd and push out the native grasses.
"You can see that in a lot of places in the Northern Great Plains — a lot of places," Svingen said. "We have some pastures like that as well. Your best chance of reversing that trend is to catch it early. And the longer you wait, the more dominant they become, the harder it is to do, the longer it takes and, especially, the more expensive it gets."
Prescribed burns
The April 29 burn south of Fort Pierre isn't part of a new research project to combine natural disturbances of grazing and burning. But Svingen said it did follow the same rationale.
"The purpose of the burn (April 29) was to reduce the dominance, reduce the accumulated fuel of Kentucky bluegrass," he said. "And if we got the timing right and if we get some rain, the native prairie grass there, which is western wheatgrass, especially in that pasture, will flourish."
The Forest Service expected much of the grass on the two-mile by about half-mile pasture to begin regrowing in one month.
Svingen said that pasture was about 50 percent western wheatgrass and 25 percent Kentucky bluegrass seven years ago. But he said recent observations in 2020 and this year showed an increase in Kentucky bluegrass.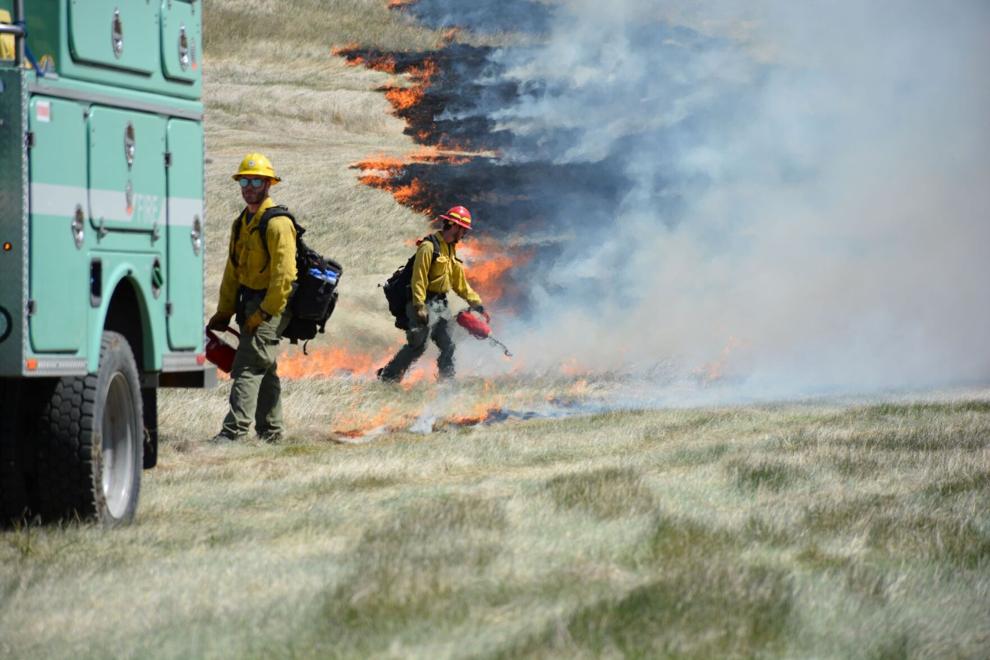 Svingen's hope is the combination of treatments will eventually tip the balance in favor of the native grasses.
And part of that equation is the Grassland fire crews and their local and regional partners continuing to have successful prescribed burns to limit wildfire fuels and stress invasive species.
"We had three successful, safe prescribed burns on the Grassland this year," Svingen said. "The third one had unexpected surprises, and the ability of our crews, the experience of our crews and the abundance of resources shows just how important all that is to respond to that unexpected wind shift."