When most people think of 911 dispatchers, they might picture a person sitting at a phone tending only to life or death calls. But that's not the case for the South Dakota Communication Center dispatchers in Pierre.
The Pierre Police Department dispatchers received more than 8,500 911 calls across five counties in 2020, and those are just the tip of the iceberg for the 15-person staff.
The Communication Center also received more than 50,300 non-emergency calls — about 10,000 more than 2019 — and handled an additional 57,854 calls for service in 2020. And they did it while averaging a 3.49-second answer time for 911 calls.
The Communication Center's five counties — Hughes, Hyde, Jones, Stanley and Sully — covers about 5,000-square miles and 26,000 people. The center also covers 19 counties as part of its service with the state, including the South Dakota Highway Patrol, Division of Criminal Investigations, Game Fish and Parks, Department of Transportation and other state and federal agencies. And many of its non-emergency calls are part of its service to the City of Pierre and Pierre Police Department.
The increased coverage came as part of a consolidation in July 2014. Cindy Gross started as a dispatcher with the Pierre Police Department 15 years ago and took the reins as manager in March 2014, just before the consolidation began. Since then, Gross has seen plenty of change in the resources at the dispatchers' fingertips.
Before the consolidation, Pierre's dispatchers worked out of the Police Department's building. The current center in the George S. Mickelson Criminal Justice Center off U.S. Highway 14 is a far cry from the former facility, about the size of a typical conference room packed with bulky equipment and staff.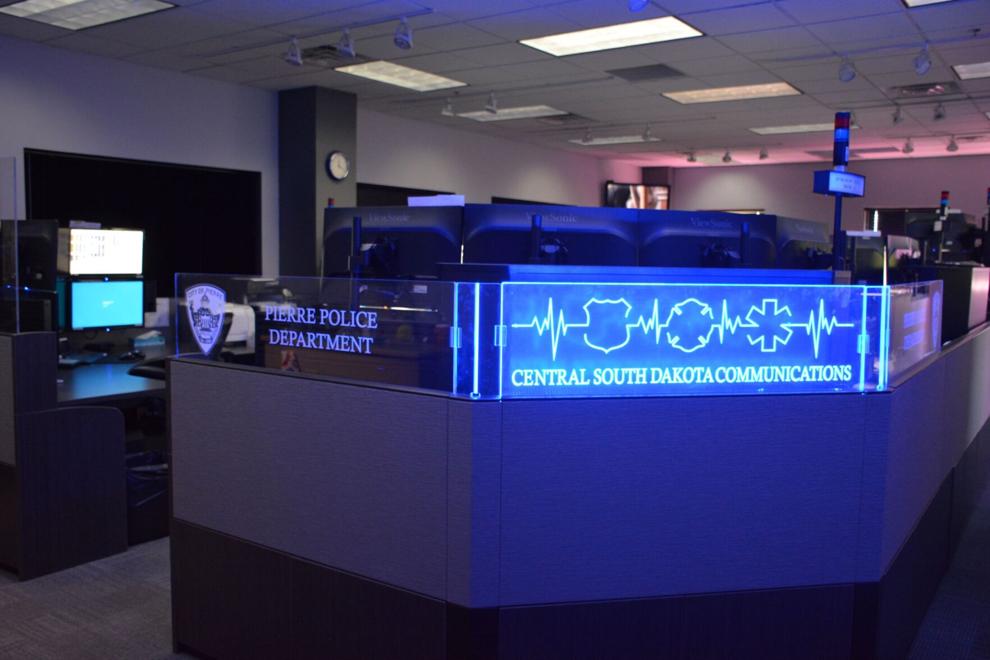 The Communication Center now resembles something out of a NASA control center with dispatchers sitting at one of six stations, each with eight monitors actively displaying critical information used to handle emergency and non-emergency calls. And the center is working on getting two more stations ready for service.
Across one wall, an array of monitors with live video feed is available for dispatchers to assist law enforcement on the ground should an active emergency arise.
Police Capt. Bryan Walz said the consolidation provided Pierre and the Police Department with the benefits of shared technology and information.
"In today's ever-evolving world, technology becomes obsolete in an instant," he said. "By combining our services with the state, we can somewhat keep ahead of the curve. Radios, computer-aided dispatch systems and even phone systems are costly to own and operate. Working in partnership with the Department of Public Safety, we can provide our services to the communities we serve cost-effectively and remain up to date with technology needs."
Increased capabilities
The Communications Center has seen some increased technological upgrades since the consolidation.
"Technology has grown by leaps and bounds since I have been in the industry. When I started, we didn't have Phase 1. We had Phase zero," Gross said about the phase levels of identifying a 911 caller and their location. "So, when I started, we didn't even get your phone number. It came up as all zeros, and we had to get the caller's phone number."
The dispatchers now have Phase 1, a tower location routing phone calls, and Phase 2, the caller's handset location radius.
But there are limitations.
"The most important thing when someone calls 911 would be to know where you are," she said. "Just because we want to know where to send help. We'll send you the resources that are needed, but we need to know an accurate location. Sometimes, technology that we have just won't give us that pinpoint location. So, we try to get that information from the caller."
Gross said a phone's and cell tower's capability could impact a narrow location radius.
"I've seen them as close as 6 meters from the handset location and as far as 3,500 meters," she said. "So, it all depends on a lot of external influences."
And knowing a narrow location is critical, especially with the vast rural or remote places within the center's 5,000-square mile 911-coverage area.
Gross said people should always be aware of their surroundings and locations so dispatchers can get emergency service to them. She said knowing which mile markers, landmarks, mailbox addresses and cross-streets are nearby can help dispatchers send resources.
Dispatchers also have another tool at their disposal — RapidSOS.
Gross said different platforms of the service exist for private companies and is how a pizza place or ride app can find a person's location. She said RapidSOS gives Public Answering Points — PSAPs — free access.
She said one of the program's better features is that it triggers only when a person calls into the 911 center, and all tracking data then goes away after 15 minutes to mitigate any privacy concerns.
"We use RapidSOS quite often for cell phone calls," Gross said. "Especially when the caller doesn't know where they are, and in our area of the country, it's super helpful and a great tool. We have boaters who maybe don't know where they are because there are no highway markers, no mile markers and they may be in distress."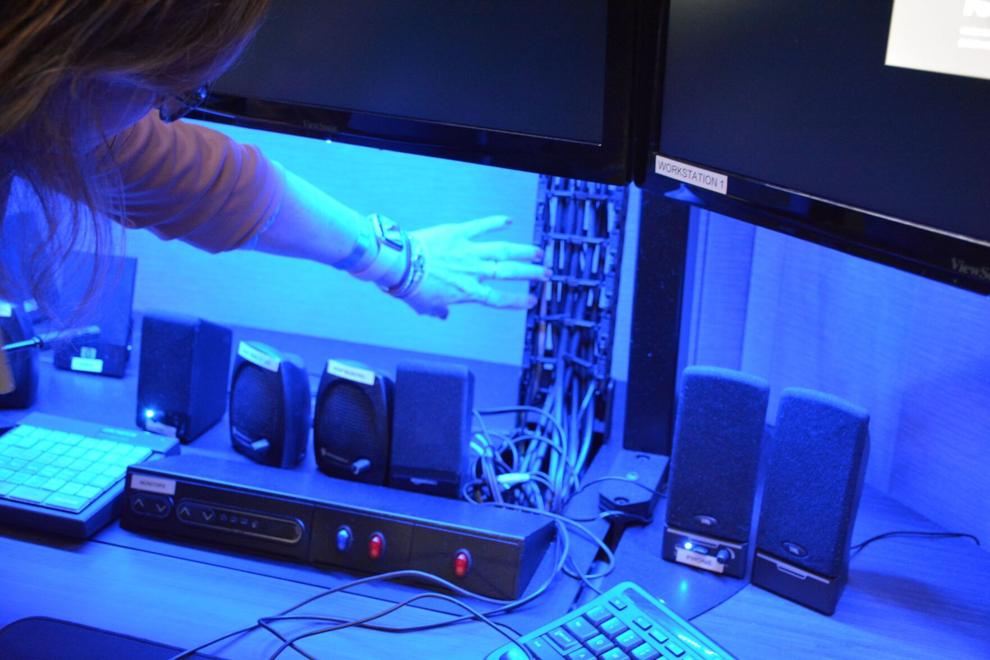 The Communications Center also has access to round-the-clock translation services to assist callers. And Gross said the services also provide law enforcement on the ground live translation capabilities during their response.
Dispatchers
While technology makes dispatchers more efficient in getting emergency services to people in distress, the most critical component to the call center is the people themselves.
The Communication Center uses multiple redundancies, such as backup power supplies, to keep the center in action. The fortified building also keeps dispatchers safe against external threats and extreme weather conditions so they can continue to operate during emergencies.
And during the pandemic, Gross said the staff understood the need to remain healthy given the center's role within the public safety infrastructure.
"Some steps that we put into place was no outside visitors unless it was official business," she said. "We stopped custodial staff and did all of our cleaning and disinfecting on our own."
Gross, who also takes dispatching shifts, said they are now fully staffed. But at times when they were short-handed, she said staff stepped up to work extra hours to ensure service continued.
Although the Communication Center continues to provide a better technological setup since the consolidation, Gross said the only downside is not seeing their law enforcement colleagues as often as they did in their old center.
"I miss seeing the officers because we don't have as much traffic up here as we did when we were at the old center," she said. "Losing a little bit of that camaraderie, you know, eating a pizza together or something like that we don't have nearly as often as we did previously."
Walz was with the Pierre Police Department before the consolidation and said it was nice having them in the next room.
"But with the way we were growing and in order to meet all of our needs, the dispatch center we had here was just far too small, and it became necessary to move them up there to the Mickelson Building," he said.
Despite seeing officers less often, the need for the center isn't lost on Gross.
"We do have quite a larger responsibility now since we've consolidated and contracted with the state to dispatch for state radio portion," she said. "We're still accessible. And I think that it's definitely a fantastic building and fantastic center."