The Evangelical Lutheran Church in America in August became North America's first denomination to declare itself a "sanctuary church body," but more than two months later the full effects of what that means have yet to play out in central South Dakota.
The denomination, which has 3.4 million members and about 9,100 congregations, made the sanctuary decision at its 2019 ELCA Churchwide Assembly in Milwaukee on Aug. 7. It reaffirmed much of the work already being carried out by Lutheran ministries on immigration issues and comes with no expectations or requirements.
But its declaration as a sanctuary denomination has raised eyebrows across the state and the nation.
"I think what surprised me was the title, sanctuary congregation," said the Rev. Craig Wexler, who has ministered at Lutheran Memorial Church in Pierre for more than three years.
"I could imagine what the implications would be for those who didn't get it fully," he said, noting sanctuary is a hot-button word in many parts of the country and throughout history.
Wexler said a handful of people in his congregation asked for clarification, with some concerned it raised potential legal issues if sanctuary called for assisting undocumented immigrants.
When those initial concerns were addressed, he said the congregation largely moved on, in part because illegal immigration isn't a major issue in central South Dakota, he said.
"We've never entered into any specific ministry agenda around immigration," Wexler said. "It doesn't impact our community very much. Cross-culturally speaking, in my time here, we have conversations and relationships and ministry with our neighbors within the community, certainly our Native American neighbors… But when it comes to immigration issues, we don't have a lot of immigrants — documented or undocumented — really, not entering the doors of Lutheran Memorial."
He, who is deeply involved in the community outside his congregation, said the same can be said for Pierre — while poverty, prejudice and cultural divides are an issue, immigration in and of itself isn't.
"Our slogan at the end of every radio commercial I've ever done — it's even on our sign outside, it's on our website — 'All are welcome.' And when we say all are welcome, all are welcome in the doors of this place," he said.
Mary Campbell is the ELCA's director of AMMPARO — Accompanying Migrant Minors with Protection, Advocacy, Representation and Opportunities — based in Chicago.
She said reaction to the August decision has been "very, very mixed" across the country, with some excited about the idea of delving deeper into immigration issues while others expressed concern that the ELCA "is encouraging actions that are not legal."
"We've tried to make it clear that's not what it means," she said.
Many congregations already aid asylum-seekers who are in the country legally. Before becoming involved with immigrants who are in the country illegally, congregations are advised "to seek legal advice," Campbell said. "Before a decision is made, know what the parameters are."
Mostly, she said they want congregations to talk about immigration and decide how it's best to get involved in the context of their geographic locations and interest of members. Thus far, she said, it's working.
"Congregations all over the country are talking about it," she said, with several joining more than three dozen sanctuary networks nationwide that are working with immigrants.
"I think we're going to see a more organized effort by congregations to work together," she said.
The Rev. Matthew Spoden, a recent seminary graduate in his first pastorate, said the decision has had "very little effect at this point" at Resurrection Lutheran Church in Pierre.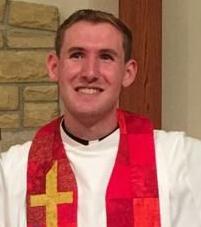 "We haven't had a lot of conversation about it yet."
As a new pastor, he said, "My role is to see what the church as it's functioning now is doing."
But he said he wasn't surprised by the sanctuary decision.
"There have been a lot of ELCA churches that have done immigration work before this announcement," he said. "I'm going to assume this is something they were thinking about for a while and decided it was time to do something about it."
The Rev. Constanze Hagmaier, who was installed last month as bishop over the South Dakota Synod, says the August decision pertains to individuals as much as congregations.
"It sparked debate among the church community, that is most certainly true," she said. "I think it's an opportunity for us to talk about how we care for our neighbor."
Hagmaier, who emigrated from Germany with her husband 20 years ago, said the decision fits in with the church's history.
"We have always been a church that is formed by immigration, we have been a country that is formed by immigration," she said from her office in Sioux Falls.
Hagmaier has encouraged congregations to "have the conversation" about immigration and says reactions from churches have been "all over the spectrum, just like people are all over the spectrum."
In the end, nobody is required to do anything, though the ELCA Church Council is tasked with delivering a report on efforts at the 2022 Churchwide Assembly.
"That's the liberty they have," Hagmaier said. "Each congregation gets to decide when and if they want to enter that conversation."
The result across the state has been more individuals deciding to get involved with immigration issues rather than entire congregations, she said. And while immigration isn't a priority for many in the state, there are South Dakota communities wrestling with it every day.
"I would say there is illegal immigration but it is not as predominant and striking on the surface and evident as it is in Arizona, Texas, Southern California. But it is very real," she said.
Herb Chilstrom of Sahuarita, Arizona, served as the first Presiding Bishop when three Lutheran denominations combined to form the ELCA in 1988. Chilstrom, originally from Minnesota, was not surprised by the recent vote.
"The biblical mandate is very clear in both the New Testament and the Old Testament that we should welcome the stranger and take care of them," he said. "This is very much in keeping with that tradition through the years."