Just over a year ago, the country started closing down as the reality of a worldwide pandemic settled in. Schools, businesses, parks, weddings, graduations, public events and more — all closed or heavily restricted. Everybody was affected. As we slowly climb out, we look back at how three local residents weathered the past year and the lessons they learned.
Bennett Dean didn't think his last year of high school would look like this.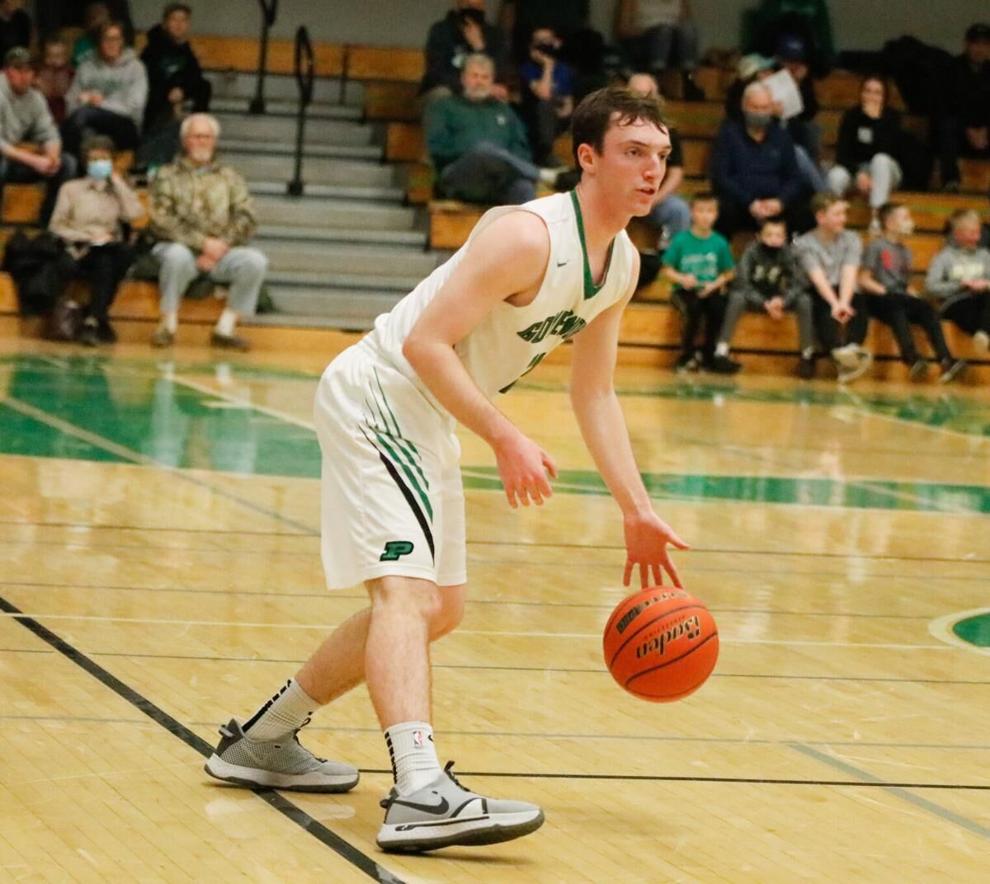 What went on at Riggs is a big part of his life — baseball, basketball, a freshman-mentorship program and lots of time with friends and good teachers.
Very quickly, the virus threatened all of it. But it also gave him the answer to a big question: What's really important?
"It wasn't the senior year I was picturing in my head when I was a kid, but it definitely made me stronger as a person," says Dean, who's 18.
The long summer brought uncertainty but the school year started as planned. But just a few weeks later there was a virus outbreak on campus and dozens of students were forced to quarantine. The school went into hybrid learning mode for about a month — three days a week online, two days in-person with half the school switching off.
A couple of spring sports at the end of his junior year were ditched because of COVID-19, but his senior year has been pretty much normal other than the canceled King of Hearts dance.
That and the mask requirement after the outbreak.
"It's taken a while for everybody to get used to wearing masks seven hours a day," he says. "People have accepted it."
And that pretty much sums up his approach to the year: Get used to it and accept it.
"It's something I've had to live with now and have adjusted to pretty well," Dean says of the virus.
As for how the district handled the curve ball, "They've done just an absolutely terrific job," he says.
Outside of school, there were plenty of silver linings brought on by the pandemic, Dean says.
"I think everybody probably came out stronger because of having to spend time indoors with their families," he says. "I thought it was a good experience for me because it brought me closer to my family. It was a blessing in disguise."
Social media helped maintain relationships.
"Just having the ability to connect with my friends, whether on FaceTime or Snapchat, that's helped me get through this a lot easier."
He knew several students who caught the virus, but didn't get it himself. Most of the cases were minor, maybe a loss of taste or smell and some flu-like symptoms.
For now, Bennett Dean is focused on the future, still considering a couple of colleges and what he wants to study.
"I'm just appreciating every day being around my friends at school especially with going off to college next year," he says.
And the big lesson of the year?
"An appreciation for the little things."
Front-line worker
Bruce Nelson has worked at DJ's Clark convenience store, gas station and carwash for 18 years, and he knows the drill: Keep the customers happy.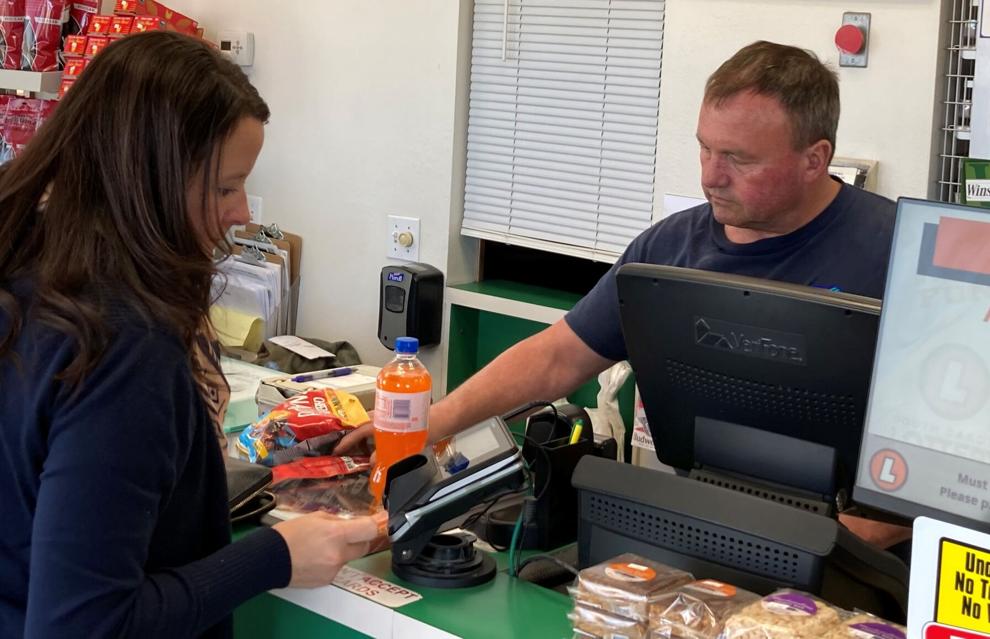 This past year, that has meant putting up a plexiglass barrier and doing lots of sanitizing amid the pandemic. Most customers don't spend a lot of time in the Pierre store but their comfort levels are all over the board. Some mask up, others don't care.
"They liked seeing something up, though," Nelson says of the plexiglass. But after it nearly fell on a customer last summer, it came down and nobody complained.
Nelson wears masks when he's doing his personal shopping but doesn't wear one at work and never has. He says customers never said anything.
Despite being exposed to hundreds of people every day, he never came down with the virus or felt nervous about being at work.
"It never bothered me. There was never anybody (employees) in the store who go it," he says, though he was out for two weeks after he was exposed to a friend who had it. His brother also had a light case that left him dragging for two weeks.
"I think the store overall has been a lot more cleaner. I don't know how many times I've gotten compliments on 'cleanest bathroom I've ever seen,'" he says with a laugh. "We always did keep it up and stuff but probably even more now."
He was glad that masks were never mandated.
"(Gov.) Kristi Noem didn't let them run all over her, mandate this, mandate that," he says.
DJ's saw a dip in gas sales over the past year but it has come back, "and sales are even up from when it started."
But beer sales? No problem.
"I think people staying home more, they picked up more beer," he says.
How has the past year been different? For the most part, it meant not going out to eat at the places he enjoys.
"But now that's easing up," Nelson says. "For me, everything's back to normal."
He misses her
Allen and Verlaine Humphrey were doing everything right.
When the pandemic hit, they stuck close to home.
"We went and got our groceries and stuff and always took our masks," says Humphrey, who will turn 81 next week. "We would still go into a casino once in a while but we didn't mess around much."
They didn't have friends over, didn't go out much and he stopped shooting pool. It was a rough adjustment.
"I was used to the old days and when you needed something you went and got it and came home. Holy smokes, when this came around…" Humphrey says, his voice trailing off. "I pretty much stayed away from where the big crowds hung around. We were pretty much just by ourselves and that was about it."
That worked most of the year; then he came down with the virus in December, a concern given that most of those who die are older. He has no idea where he contracted it.
Humphrey avoided the hospital until one night when he was having trouble breathing.
"They run me in and run me through and says, yes, I had it."
He stayed overnight and was sent home with an oxygen machine. As cases dropped, the couple thought they'd be fine but didn't let down their guard.
Then Verlaine, once a popular waitress at restaurants in Pierre and Fort Pierre, landed in the hospital. It wasn't entirely a surprise. She was in poor health and was doing constant battle with her body.
At one point she seemed to be doing better and was sent home with instructions to maintain distance from Allen as much as possible. It took a while for the hospital to say she had COVID-19, but that eventually was the message. Then, with little warning, Verlaine Humphrey died Jan. 5. She was 85.
Three weeks later, Allen says he received a letter from the hospital confirming she had the virus, though the death certificate didn't mention it and it wasn't in her obituary.
None of that matters much to Humphrey, who sums up the past year in one short sentence: "It's been tough."
April 13 would have been Allen and Verlaine Humphreys' 62nd wedding anniversary.