A little heat didn't stop a good turnout for this year's Casey Tibbs Match of Champions in Fort Pierre on Saturday. More than 1,200 fans packed into the Stanley County Fairgrounds to cheer on cowboys from around the state and world.
On Monday, Casey Tibbs South Dakota Rodeo Center Executive Director Kalyn Eulberg said the night was a welcome return after the coronavirus pandemic canceled last year's rodeo.
"Nobody wanted to cancel last year," she said. "So all the proceeds from the rodeo go back to the non-profit Casey Tibbs Foundation, which is the financial source of the Rodeo Center in Fort Pierre."
The National Weather Service recorded a 104-degree high at 6:53 p.m. on Saturday at the Pierre Regional Airport. But it didn't deter the crowd packed into the shady side of the arena — which Eulberg said they were happy to have the awning and a slight breeze to provide relief. As the temperature began to drop, cowboys took to the arena at 7 p.m. to show off their skills.
Dawson Hay from Wildwood, Canada, won the night with a 90.5 ride. The Professional Rodeo Cowboys Association currently ranks Hay at No. 3 in the national saddle bronc riding standings as of Monday.
Hay also received the 100th and last Casey Tibbs riding a tornado statue as the top rider for the evening.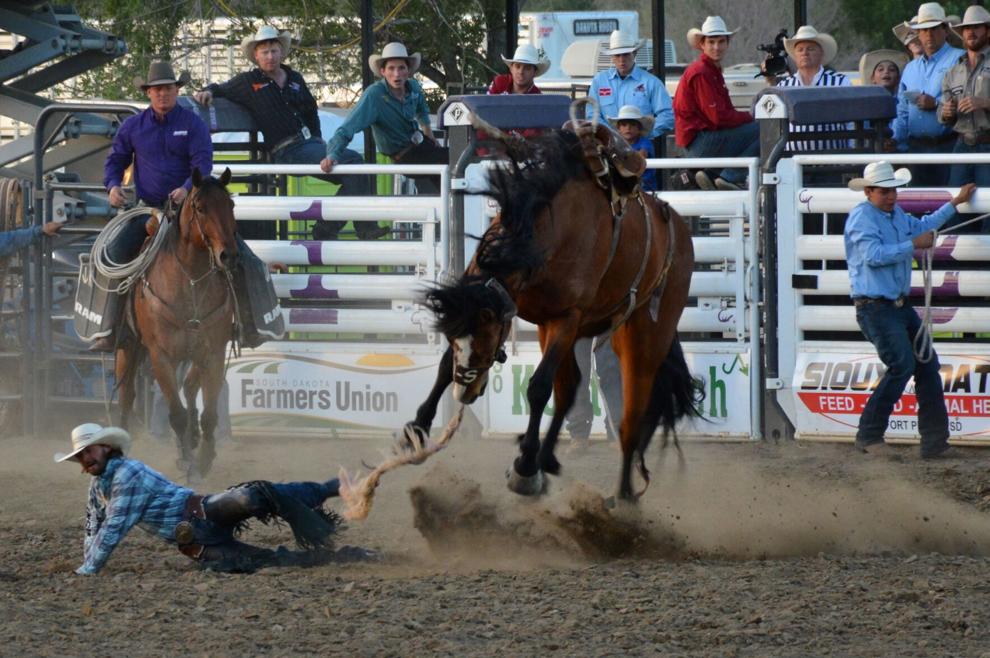 Eulberg said Eagle Butte's Shorty Garrett — Tibbs' great-great-nephew — who wore Tibbs' trademark purple, coming in second with an 89.5 ride, was a local highlight for the night as well.
"That was pretty cool to see over there," she said.
On Saturday, Foundation president and Tibbs' niece Dayle Angyal said she was hoping for a good turnout as she sat in a back office at the rodeo grounds with several fans blowing to keep her cool.
"I think people are ready to get out and do stuff again," she said. "Cowboys are a tough bunch. Heat doesn't get them down."
Angyal was also pleased the Cowboy Channel was on-site to record the day's rides for later airing. She added PRCA sanctioning about three or four years back increased the Fort Pierre rodeo's standing among riders.
"We had really great cowboys. We had really great stock come in," Eulberg said. "The short go brought your top eight horses. They were all NFR stock. So, they were all ones that you've seen in Vegas — I guess last year in Texas. And we had the best of the best in our short go as far as cowboys as well."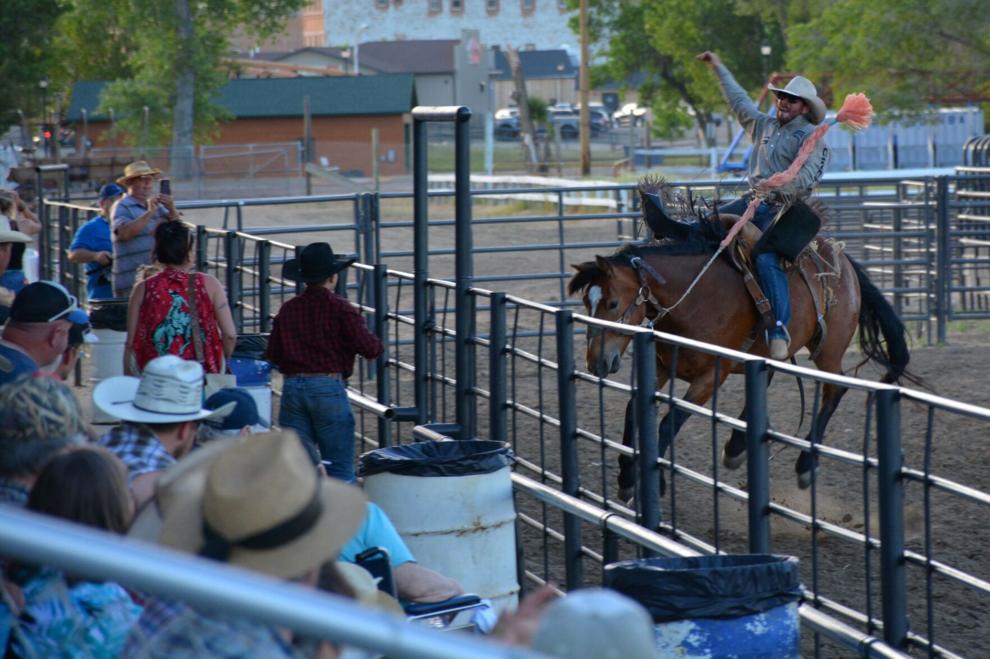 In the stands, Fort Pierre resident Riley Hannum, who is also a great-great-nephew of Tibbs, was happy to catch the rodeo this year.
"It was kind of cool because my uncle, he runs the fairgrounds here, and I've helped him the last couple of years to do a lot of this stuff," he said. "So, it's cool to see it in action. I'm glad to get COVID, hopefully, behind us and back to normal. It looks like there's a pretty good crowd even though it's been hot this week. But yeah, it looks like there's good turnout."
Nearby, Jill Moore watches the cowboys make their rides and snaps a few photos as the night's mini riders take center stage. Moore, a Clearlake resident, said this was her first time coming to see Fort Pierre's Match of Champions. She made the trip to catch one of her son's friends compete in the mini bronc rides.
"Hot," Moore said in describing the day with a smile. "But it's been really fun. It's been fun to see these big-name guys."
Eulberg said it was tough canceling the rodeo last year, and they couldn't put the burden on sponsors during the pandemic.
"Sponsors really came in for us this year," she said. "They really showed up for us, and we were very grateful. And we were elated, would probably be the word, to be back in action this year, despite the heat."